New Netflix original "Insatiable" misses mark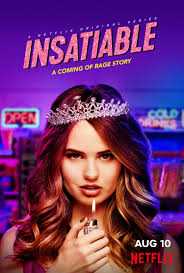 Netflix's new original series Insatiable is a show that is so wrong in so many ways. Not only is the show itself flawed in the ways of plot, characters and script, but its overall themes are disturbing, immoral, and just wrong.
The show follows a girl named Patty who had been overweight all her life. But after getting punched and having her jaw broken not being able to eat for months, she loses a lot of weight, becoming "magically skinny." She decides to use her "new body" to take revenge on all of the people who made fun of her by humiliating them in different ways and by joining beauty pageants just to spite them.
It is repeated many times in the show that "skinny is magic" and Patty expects that loss of weight means loss of problems.Throughout the entirety of the show, Patty blames all her wrongdoings on others and the fact that she was bullied all her life. These are obviously wrong ideas that were never corrected.
Meanwhile, the plot itself is a mess. There is a new twist every episode that does nothing but take the show so far off track that viewers forget how it even started. The character development, when it rarely occurs, is negative. Patty, for example, never learns from her mistakes or learns positive lessons but just gets more selfish and hurtful as the show goes on.
The show tries to add in some diverse characters, but when the entire show is body shaming, it difficult to focus on such positives.
Most people would think that by 2018 shows and media would realize how important it is to put out positive messages of acceptance for their audiences. The media is a big influence of how young people see themselves and the world, and Insatiable is an awful example doing nothing but showcasing the worst of it.