After big season, volleyball makes return to playoffs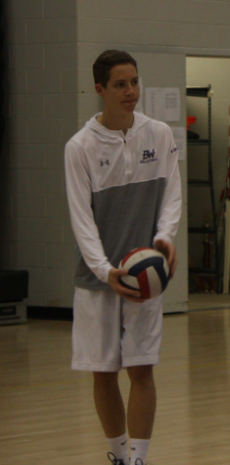 Hang on for a minute...we're trying to find some more stories you might like.
After a long run of qualifying for the postseason every year, the boys volleyball program had fallen short the past two seasons. So the mission this year was simple: Get back to the playoffs.
The team did just that, racking up key wins throughout the regular season to secure that playoff spot.
"It feels fantastic," senior Dante Parente said. "It was one of our goals to make the playoffs."
Senior Ben Remlinger agreed.
"It feels great," Remlinger said. "It is always nice to win."
Parente believes the team's success this season is due to how well they played together.
"We played really well, pulled together by trusting each other, and following the instructions from our coach," Parente said, referring to Coach Eric Falcione.
Remlinger said the team knew it had the ability to win.
"We felt we had all the pieces this year, so we had the motivation to dominate teams as best we could," Remlinger said.
Sophomore Zach Remlinger credits all their success to the team's leaders.
"We had great leaders that pushed us underclassmen and got everyone involved," Zach Remlinger said.
One standout game of the season was the match against Canon Mac, players said.
"We played out of our minds," Ben Remlinger said. "We did not let the ball hit the ground once. Everyone played their best game."
This game defined the team's season because it helped them clinch a playoff spot and move up to second in the section.
Parente believes another game, this one against Upper St. Clair, contributed to the Highlanders' successful season.
"There was so much energy, fire, and passion from the team," Parente said. ""We really had to learn how to pull together as a team to get the win."
Key players also helped make the successful season possible. Seniors Parente, Remlinger and Mike Goga pushed the team along and consistently played at a top level.
"Mike Goga has become an absolute animal. Nobody can stop him," Ben Remlinger said.
Parente gives credit to Ben Remlinger for playing such a great season.
"He made the All-WPIAL team last year, and has definitely held that standard," Parente said.
The younger members of the team plan on carrying their energy from this year into the next season.
"We got a lot of experience this year in big games and much needed playoff experience," junior Jake Kemerer said. "Next year when the time comes to step up, the team will be ready."
About the Contributors
Timmy Stinelli, Staff Writer
Tim is a junior and a second-year writer for the Purbalite. He loves writing music reviews and sport stories.
Tyler Zeman, Staff Writer
Tyler Zeman is a junior and a second-year staff writer. He can be found on the soccer field or outside doing outdoor things.