Dadig leads team to fourth title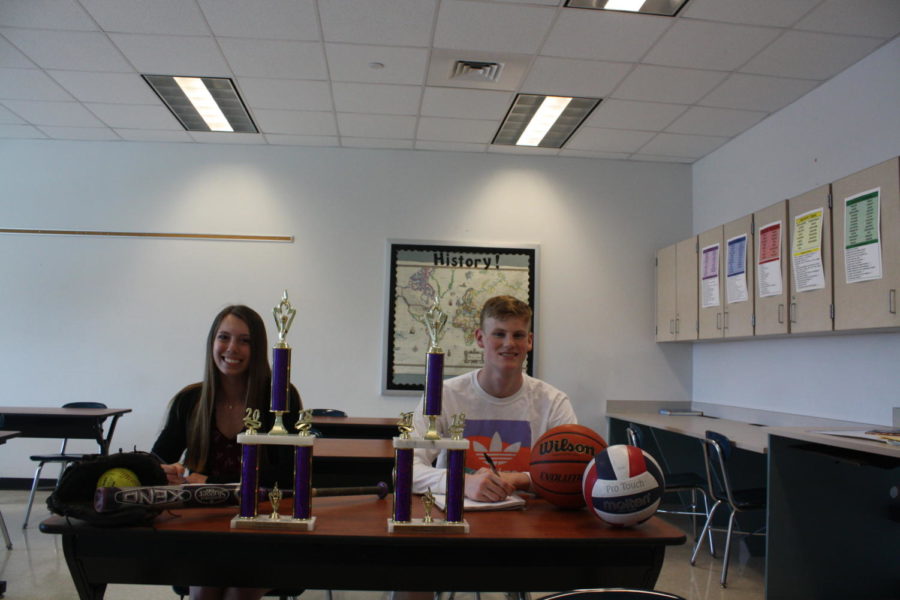 She's a four-year varsity starter, a four-time section champion, an all-state player who has made an appearance in WPIAL finals, and a KDKA Extra Effort Award winner.
For all of those accomplishments, senior Taylor Dadig, shortstop on the softball team, is the 2017-18 Purbalite Female Athlete of the Year.
One of Dadig's greatest accomplishments came this year when she was awarded the KDKA Extra Effort Award, presented by Bob Pompeani.
"It was good to win and be recognized, but I really have to thank all of my teachers, coaches, friends, and my parents for supporting me," Dadig said.
Softball Coach Vince Sortino praises her hard work in the classroom and on the field.
"I am proud of her and she really deserved it," Sortino said. "She is well-rounded in both academics and athletics."
The Extra Effort award recognizes students who are able to find a balance between academics and sports, and excel in both.
"I had to really manage my time, which included making sacrifices and missing social events," Dadig said.
One of her biggest supporters, senior and teammate Carly Santillo, was next to her the day she received the award.
"She deserves it more than anyone," Santillo said.
Santillo and Dadig have been playing together since first grade. They have experienced four straight section championships.
"It's been an awesome four years," Santillo said.
Along with her other awards and accomplishments, Dadig also was an all-state softball player in her junior year.
"She won this award because she has been such a big part of our offense and defense since her freshman year," Sortino said.
Both Santillo and Sortino applaud not only her hard work, but her leadership as well.
"She is a great leader and knows how to handle situations better than anyone else," Santillo said.
Sortino agreed.
"She is a great player with an amazing attitude and she is very consistent," Sortino said. "Other players feed off of her consistency and she helps lead by example."
As Dadig is graduating from Baldwin High School, she will take her talents to George Mason University on an academic and athletic scholarship.
Dadig chose the Patriots due to the team dynamics, she said.
"Everyone there seemed involved in teamwork and team bonding, so it felt like the right fit," Dadig said. "Also the engineering program stood out to me and was a big part of my decision."
As her coach sees a big piece of the Baldwin softball team graduating, he believes she can be just as successful in college as she was with the Highlanders.
"She'll be a great success," Sortino said. "She is talented and gives 100 percent at everything she does."