Students create personal portraits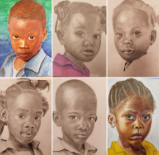 Students rarely get to make a life-long impact on children across the world, but Baldwin art students have created memorable artifacts for orphaned children to keep with them forever.
The Baldwin students recently used their talents to make heartwarming portraits for children in Haiti.
A non-profit organization called My Class Cares travels across the world to developing countries to raise money for school supplies and to take the photos for this project. The group reaches out to schools across America, seeking young artists who will create portraits of children based on the photos.
The young artist in America gets a photo of the child and creates a portrait, which is then shipped back and presented to the children.
The orphans rarely have their pictures taken, so receiving a portrait of themselves is a treasured item, art teacher Cheryl Foote said.
"It is really nice to give a gift like this to children who typically don't feel loved. So it's good to know that these children feel good, and that it's something they will keep forever," Foote said.
The My Class Cares organization creates a video of the children opening their portraits, and sends the video to each participating school. Foote and the art students always look forward to seeing the smiles on the children's faces.
Over the years Baldwin artists have created portraits for children in countries such as Peru, Honduras, Rwanda, Bolivia, the Philippines, and Paraguay. This year, Baldwin students have completed 14 portraits that have been sent to Haiti.
"All of my students were very excited, and some of them even wanted to complete two different portraits," Foote said.
Some of the Baldwin artists who have participated in the project are Brandi Marsch, Meghan Bradley, Bridget Stehle, and Rhealee Ferraro. Foote also has a former student from six years ago who still volunteers to create portraits.
"I like completing the project because I like to make the children feel good and important," Bradley said.
The project is not a class assignment, so students have to complete the portrait on their own time. The artists decide which medium they would like to use, including black and white pencil, colored pencil, charcoal, or a variety of paint styles.
"This year I chose to use watercolor, because last year I did the portrait in oil paint, and I did not want it to be in simple black and white color," Ferraro said.
One of the requirements for the project is that the drawing has to be on a 9×12 canvas, so the picture can be portable. The artists are allowed to attach a photo of themselves and a short message on the back of the portrait.
The art students look forward to painting portraits of children every year and giving something to make the children's lives much brighter, Foote said.