Coffee shop plans brewing at Baldwin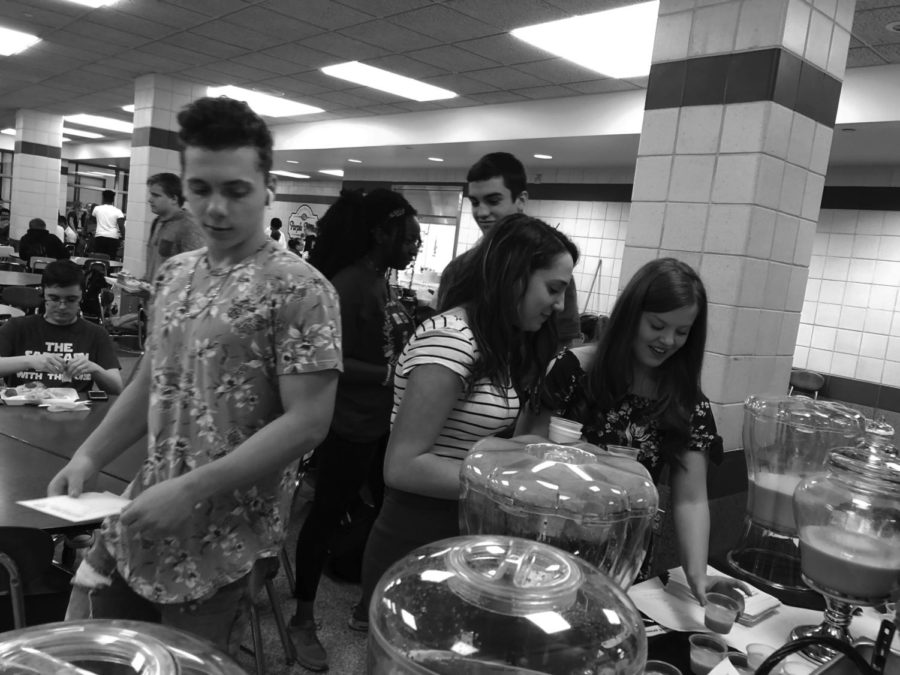 As work continues on next year's opening of the Baldwin Bean coffee shop, federal school regulations have forced organizers to be creative in putting together the menu.
While some students might be used to huge cups of high-calorie flavored coffees from Dunkin' or Starbucks, the coffee shop will only be able to serve 12-ounce coffees that contain 60 calories each due to the federal dietary regulations.
The Baldwin Bean will offer more than coffee, though.
Smoothies likely will be on the menu, and various smoothie options already have been offered for taste testing in the cafeterias. Additionally, baked goods and pastries also likely will be sold.
As for how students will pay for their purchases, various options are being considered.
"It is looking very likely that students will be able to use their cafeteria lunch accounts to make purchases at the Baldwin Bean," Assistant Principal Rachel Sprouse said. "The cafeteria will still focus on serving full meals and the Baldwin Bean will provide more a la carte menu items."
The current plan is to have the Baldwin Bean open from 7:30 to 7:45 a.m. An additional possibility is a "Last Chance Breakfast," which would provide the opportunity for students to buy breakfast items through at least the end of second period.
As for possible after-school hours or other hours of operation, Sprouse said student interest would be taken into account.
"If the student demand is present, we would certainly consider having more availability," Sprouse said.
Student input has been essential in the planning process, organizers said.
"A Baldwin Bean student committee has been established to serve as representatives for the student body at BHS," Joshua Stahl, one of the teachers collaborating on the coffee shop project, said.
One of those committee members, freshman Lexi Kilburn, said the committee made sure to include the whole student body in the development of the coffee shop.
"We made it so everyone gets to choose the names, logo, and even some of the items at the shop through surveys," Kilburn said.
Stahl and another teacher involved in planning the project, Eric Jankoski, have had this concept in mind for a few years, but now it's taking off.
"Now with the interest of Mrs. Joyce Weber, director of food services, the timing was perfect to get the coffee shop off the ground," Sprouse said.
Although there are other schools that have student coffee shops, Baldwin's will be different because the Special Olympics Club will be working the coffee shop using the Partners model, similar to the set-up in Partners P.E. or Partners Music.
"Schools like South Fayette, South Park, and Elizabeth Forward all have cafe or coffee shop set-ups, but nothing quite like what we are projecting to have here at BHS with the incorporation of our Partners model," Sprouse said.
About the Writers
Avery Greenaway, Multimedia Editor
Avery is a senior and this is her third year on the Purbalite. She's always in the mood for some quality sushi, and is very adamant about her preference...
MacKenzie Sendro, Multimedia Editor
Multimedia Editor MacKenzie Sendro is a senior and this is her third year on the Purbalite. She can either be found binge-watching any series on Netflix,...