Welcome back to the Kang Show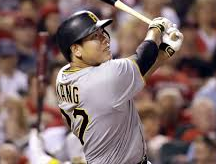 Early Thursday afternoon, about one hour after Baldwin students headed to the school exits, stunning news surfaced about a former Pirates star. Jung Ho Kang is coming back.
Kang, who played shortstop and third base for Pittsburgh from 2015-16, was arrested after the 2016 season for his third DUI in South Korea. The Pirates had no prior knowledge of Kang's first two DUIs, so they were stunned to hear the news.
He received a two-year suspended sentence and was unable to acquire a work visa to re-enter the United States and join the Pirates. Kang unsuccessfully made a last-ditch effort to join the Pirates by going to the Dominican Republic to try to acquire the visa.
This time, however, his wish has been granted.
Kang acquired his visa Thursday and is heading to Pirates City in Bradenton, Florida, to prepare for his anticipated return.
This is a very exciting time for the Pirates, as this news came out of nowhere. Kang could be a major boost to the Pittsburgh lineup at short, third, and potentially second while Josh Harrison is on the disabled list.
There are questions, however. He might not be able to regain his old form. He played winter ball this past winter and struggled, hitting only .143 with 31 strikeouts in 24 games. Kang may also face discipline by the MLB from the charges.
Still, it made for a huge day in Pittsburgh sports on Thursday: The Pirates walked it off in the ninth thanks to a homer from left fielder Corey Dickerson, the Pens battled back from an 0-2 deficit in the third period to defeat the Capitals 3-2, the Steelers in the first round picked safety Terrell Edmunds with the announcement coming from Ryan Shazier, and Jung Ho Kang can come back home.
What a day.
About the Writer
Austin Bechtold, Staff Writer
Austin Bechtold is a senior and this is his second year on the Purbalite. He can be found on the boys volleyball team, at major sporting events, and always...