New shop class puts focus on careers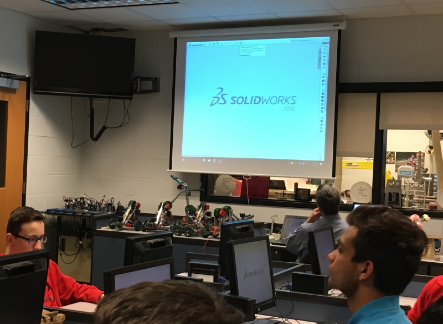 In the past, students interested in industrial technology would have many different courses to choose from, but next year several of those classes are being merged into a more comprehensive introductory course designed to replicate real-life careers and introduce students to a variety of shop skills.
Next school year, Baldwin will offer a new class called Fabrication and Engineering. The course will be a more practical take on shop and technology classes that will teach students skills they may need in real-life situations, department chair Jim Wodarek said.
In Fabrication and Engineering, students will be introduced to a variety of shop and technology skills that previously were the focus of separate introductory shop classes. For example, instead of taking a course in Energy Power Mechanics and another in Graphics I, students will be introduced to skills from each in Fabrication and Engineering.
"Everyone will have an area they will like the most," shop teacher Chris Ross said. "This will make it easier for kids to find their interests and work with their hands."
Typically about 14 tech ed courses are run in any given year, Principal Dr. Walter Graves said. Next year with the consolidation due to the new intro course, there will be roughly nine courses offered. The Robotics/Electronics Technology course is independent from the Fabrication course, Graves said, although the Fabrication course will involve some electronics.
A pilot class was introduced this semester to teach students how to use the computer program that will be used with the new Fabrication course. Students in the class said they are enjoying it thus far.
"I learned how to draw a lot of building parts on the computer. I'm getting a little bit of everything. We're in the metalworking room, the woodshop room, and the computer lab," sophomore Paul Zmuda said. "It's great."
After students complete the first Fabrication and Engineering course, they will be able to take an advanced level of the course or choose an advanced level of a specific shop class to continue studies in that specific area. However, if a student with prior knowledge wants to take an advanced shop class course without taking Fabrication and Engineering, they can be pre-approved by Ross.
The goal is that the Fabrication and Engineering courses will teach students to work as if they were employees of a company. In the first level of the class they will be told what product to make and will try their best to create it. In the advanced level they will make their own products, with the mindset that they may sell them to consumers.
The first project for the pilot version of the class is to create charging stations to be placed around the school that will be functional and aesthetically pleasing.
Some students are skeptical about the tech class changes, saying that the bigger projects the class plans to take on are daunting, due to the designing work necessary before they can build the project.
"If we had started in the metal room, I think kids would get more excited," sophomore Shayne Baranowski said. "Then they could come in and work on the bigger project."
Others, though, have enjoyed the work in the pilot course.
"I've learned about computer-aided drafting and about how to work with different materials such as wood, glass, plastic, vinyl, metal, and so on," senior Caleb Giel said.
About the Writers
Prudence Nowicki, Multimedia Editor
Prudence is a senior and a third-year multimedia editor. She enjoys a majority of her time listening to K-pop, watching anime, K-dramas and enjoying all...
Erin Fader, Design Editor
Erin Fader is a senior and the design editor for the Purbalite. You can usually find her either cheering on the Baldwin Highlanders or sitting in a cocoon...