DeGregorio, Westinghouse coach taking over hoops programs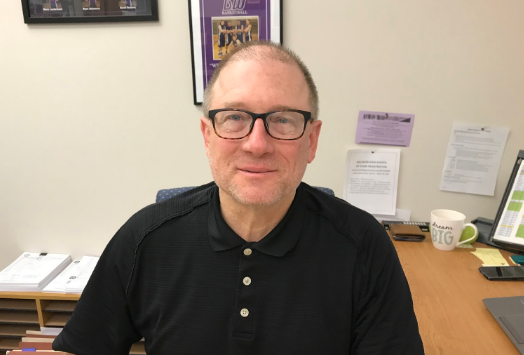 By Purbalite Staff
The boys and girls basketball teams have new coaches, one a Baldwin guidance counselor who has coached here before, and the other the head coach from Westinghouse High School.
Eugene Wilson, head coach at Westinghouse, was hired Wednesday night to coach the boys basketball team. High school counselor Kyle DeGregorio, who previously coached the Baldwin boys team, was hired to coach the girls team.
Wilson said he is "very honored" to take the position. He said he will be looking to make an immediate impact on the team.
"I love what Baldwin represents," Wilson said. "We will work hard."
Wilson has not met the Baldwin players, but is looking to shape them into an outstanding team.
"I'm already aware of some of the players," Wilson said. "It's all about the team, not one individual."
Wilson previously coached at Wilkinsburg, his alma mater, but moved to Westinghouse due to a merger of the two schools.
"I understand the impact (basketball) has on the kids," Wilson said. "We have to support each other and have each others' backs."
Wilson has taken Westinghouse to back to back City League championship appearances and to the state playoffs.
"Wilson has a great knowledge of the game and he is good at developing athletes," Athletic Director Vince Sortino said.
Two members of the boys basketball team, junior Christian Barr and freshman Connor Lavelle, said they are ready to get started.
"I'm excited to get back in the gym, excited to meet him," Barr said. "We're going to play our hearts out and get wins."
"It's a big change," Lavelle said. Team members like what they have heard about Wilson so far, Lavelle said.
DeGregorio, the new girls coach, is a familiar face to Baldwin basketball. He coached the boys program at Baldwin for nine years, posting a winning season each of his first four years.
DeGregorio's boys squad also held a home record of 33-6 at one point and are responsible for two of Baldwin basketball's winningest seasons (19-8 and 19-5).
DeGregorio has been head coach at Belle Vernon and has had success there, but said he'd had enough of the strenuous drive to and from that school.
"I spent 70 minutes in my car a day. When the (Baldwin) girls job became available, it looked like a good opportunity. They're a special group of girls," DeGregorio said.
DeGregorio is returning to a coaching spot in the district that previously let him go from the boys coaching job, but he said there are no hard feelings.
"When you get involved in coaching, you're going to get fired and you can't take that personally. There's a lot of emotion in sports and coaching, and you can't put it towards that," DeGregorio said. "It feels good to be home."
Sortino said DeGregorio's background makes him a good hire.
"DeGregorio will fit perfectly with the program because he is a guidance counselor and knows the kids. He also has been a very successful basketball coach," Sortino said, pointing to the back-to-back section titles DeGregorio won at Belle Vernon.
DeGregorio held a meeting with the girls team before school started today.
"He has big plans to win championships," freshman Anna Lucarelli said.
It will be a big change, but the girls are excited to come together as a team and win some big games, Lucarelli said.
In other sports hires Wednesday night, new coaches for boys soccer and swimming were announced.
The new boys soccer coach is Dave Zinski, a former head coach at Carlynton and North Hills.
"He brings great experience since he coached at two other schools," Sortino said.
Kim Klinger will be the new swimming head coach. She was formerly the assistant coach and a head coach for Baldwin in the early 1990s.
"She has a great reputation in the swim community," Sortino said.
Staff writers Mitch Davis, Jack O'Brien, Eli Achtzehn, Austin Bechtold and Nate Breisinger contributed to this report.