Big season gives reason to cheer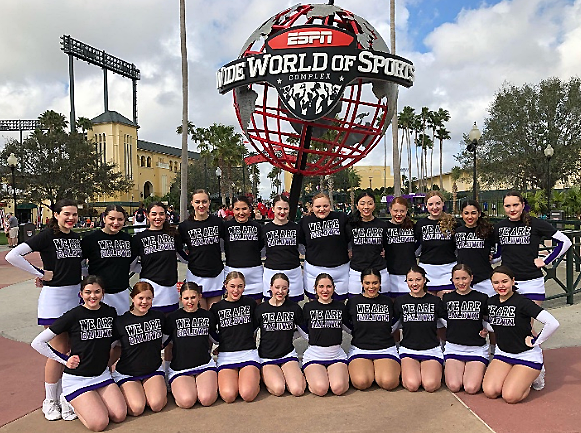 Between traditional cheering at sports events and its two competitive squads, the cheerleading team has concluded a noteworthy season.
The competitive squads consist of the gameday team and the mat team. Gameday competitions resemble cheerleading seen on sidelines of athletic events, while mat competitions incorporate more stunts and tumbling.
The season culminated in a fourth-place finish at states and a trip to nationals at Disney World. The team got a glimpse of the big things to come at its first event of the season.
The Highlanders earned bids for both the mat and gameday teams to nationals in Orlando at their first competition in Miami Valley, Ohio. The girls placed first in the mat competition and second in gameday.
"We all got along so well this year, which I think is what sparked our achievements," sophomore Abby Zuder said.
After their successful start to the season, the girls continued to excel with two first-place finishes in a local competition at Bethel Park High School. The triumphs kept coming when the Highlanders finished first in the medium varsity division and second overall in the WPIAL AAA division at the Competitive Spirit Championships.
Earning those achievements took a lot of work. Senior Emma Hampsay said the team's practices were time consuming and challenging, filled with learning new skills for upcoming competitions, perfecting their previous routines, and enhancing their team chemistry.
Hampsay commended fellow senior Kaitlyn Joyce on her continuous leadership throughout the season, along with seniors Leila Crawford and Sarah Dempsey.
"Kaitlyn was probably our team's main leader. She always gave us pep talks at practice and before we would compete," Hampsay said. "The seniors all really worked to support our team."
The team was excited to return to states in January. Before heading to Hershey, the Highlanders continued their sock tradition, in which they each write on their socks a positive characteristic that they contribute to the team.
"When we got the socks, I started to get even more excited to be on this team," freshman Christianna Martinez said.
Even considering their placement in a big new division with 38 teams, the girls pulled out a fourth-place finish at the PIAA state finals.
Three months after earning their bids, the gameday and mat teams took flight for their final competition at the UCA Nationals in Orlando, Florida. The Highlanders finished their season with a tenth place finish in semifinals for the mat team and eleventh in the preliminary round for gameday.
"This was the best last season I could imagine," Hampsay said.