With expectations low, Bucs could surprise in 2018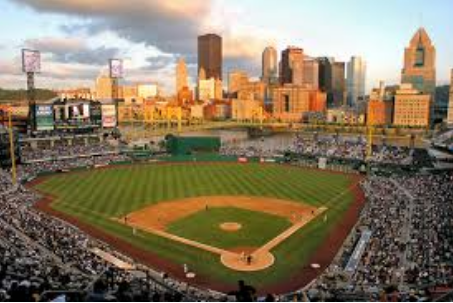 Many fans are thinking, "The Pirates are going to be pathetic and terrible this year. They traded Andrew McCutchen and Gerrit Cole, so how could they be any good?"
The old Pittsburgh Pirates 2013-15 playoff window is shut and as Manager Clint Hurdle likes to say, "a new era of Pirates baseball" has just begun.
The Bucs added third baseman Colin Moran, starting pitcher Joe Musgrove, and relief pitcher Michael Feliz from the Houston Astros for Cole and Kyle Crick from the San Francisco Giants for McCutchen. They all figure to contribute to the major league roster. They also aquired outfielders Jason Martin and Bryan Reynolds, who hope to factor in later on down the road.
When really looking at this team, it's hard not to get excited by what the Bucs have to offer in both the lineup and the bullpen.
The lineup contains all-stars Josh Harrison, Starling Marte and Corey Dickerson, veteran leaders Jordy Mercer and Francisco Cervelli, and breakout candidates Moran, Josh Bell, and Gregory Polanco.
The key is everyone staying healthy. Cervelli has been hurt the last two years with numerous injuries and Polanco made three trips to the DL due to nagging hamstring problems.
These regulars, along with a strong bench — which is starting out with four players rather than five — should definitely be better than the Pirates' second-worst offense in baseball last season.
Moran has loads of potential as a corner infielder with power who can hit for average, and Dickerson has the ability to lengthen out the lineup and provide more power from left field.
The bullpen should also be fun to watch. With many young, live arms throwing in the upper 90's, this bullpen led by Felipe Rivero could come close to regaining its former shark status.
The old shark tank bullpen from 2013-15 was a top bullpen in baseball with one of the lowest ERA's every season. Rivero will be joined by setup men George Kontos and Michael Feliz, along with Josh Smoker, Edgar Santana, Dovydas Neverauskas, Tyler Glasnow, and Steven Brault.
One major concern for the Pirates is how the starting rotation will fair. Jameson Taillon will provide a good start most days and Ivan Nova will no matter what go six innings. But other than that there is not much guaranteed.
Trevor Williams and Chad Kuhl had strong and encouraging second halves and Joe Musgrove pitched well out of the Astros' bullpen last season. The questions are whether the first two can have sustained success for a full season, and whether Musgrove can translate his success back to the starting rotation.
There are many questions to be answered, but one has already been solved. This team believes in itself and believes it can accomplish great things. The players feel a different youthful vibe this season that fans have not seen since the run in 2015.
The players believe they have what it takes to surprise a lot of people, and it might be time that fans start believing it too.
About the Writer
Austin Bechtold, Staff Writer
Austin Bechtold is a senior and this is his second year on the Purbalite. He can be found on the boys volleyball team, at major sporting events, and always...