Fochtman tells her story in Central Blood Bank commercial, YouTube video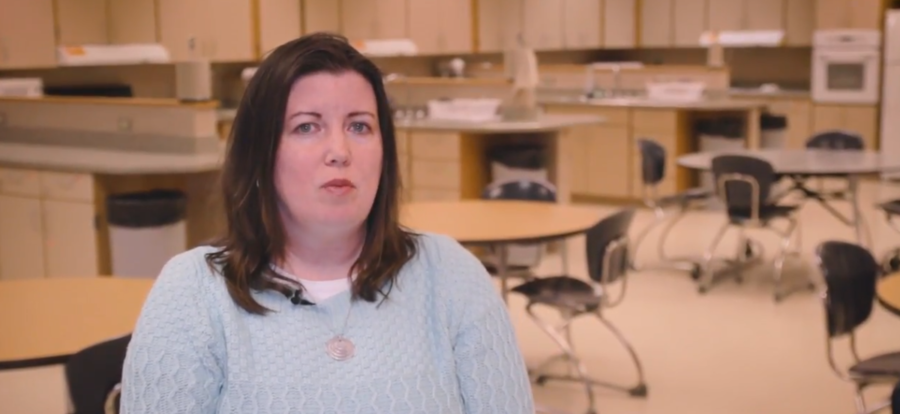 Culinary arts teacher Beth Fochtman already encourages the Baldwin community to "be a hero" one day each year by doing good deeds on the anniversary of her late son's birth. Now in a new video and a new commercial for the Central Blood Bank, she is reminding people that donating blood is heroic as well.
After Fochtman spoke to Baldwin juniors and seniors in October in advance of the school's fall blood drive, the Central Blood Bank asked Fochtman to tell her story in a video.
"If they ever needed a speaker, I was willing to tell my story if it meant saving lives," Fochtman said.  
The Central Blood Bank came to Baldwin and filmed Fochtman telling her story. This video will be used at presentations to encourage people to donate or hold their own blood drives.
The blood bank has posted the video on YouTube. It can be found at: https://www.youtube.com/watch?v=OZgigbA0oKE
Taitia Shelow, a marketing specialist at Central Blood Bank, said she happy to work with Fochtman.
"She was very generous to let us tell her story," Shelow said.
Meanwhile on Thursday, Fochtman traveled to WTAE to film a commercial spot that the station is sponsoring. The commercial with air only on WTAE and will aim to recruit people to donate.
In February 2012, the Fochtmans experienced the loss of their son, Logan, from complications in Mrs. Fochtman's pregnancy. She had a previously unknown tumor that ruptured, and Logan died as a result. In essence, Mrs. Fochtman said, she only lived because of Logan's death.
Fochtman was a recipient of blood during her time in the hospital and is proud to keep her son's memory alive.
"It's an honor to share my son's story and for him to help others even though he is gone. It's something special," Fochtman said.
Fochtman said the message from both the video and commercial is that everyone should consider donating blood to help save a life.
"Donating blood is a simple thing that anyone can do to save a life," Fochtman said.
About the Writers
Austin Bechtold, Staff Writer
Austin Bechtold is a senior and this is his second year on the Purbalite. He can be found on the boys volleyball team, at major sporting events, and always...
Tyler Zeman, Staff Writer
Tyler Zeman is a senior and a third-year staff writer. He can be found on the soccer field or outside doing outdoor things.