Hope World breaks language barriers and engages audience to listen in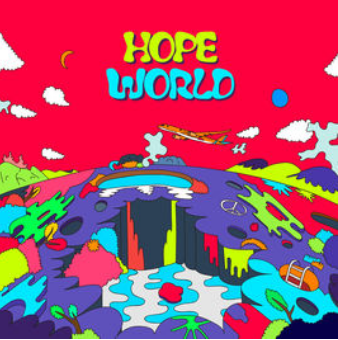 While K-Pop grows in popularity throughout America, J-Hope is emerging as one of the genre's top artists worldwide.
J-Hope is one of seven members in the all-boy Korean pop group BTS. The group has gained worldwide popularity, breaking any preconceived notions of language barriers over the past couple of years, leading to them making their American television debut in November when performing on the American Music Awards.
J-Hope is the third member of BTS to release a solo mixtape, following rappers Suga and RM.
The idea of a song being in a different language can seem disorienting, but Hope World will have listeners nodding along before they realize it.
J-Hope shows off his unique and wide-ranging talent as a solo artist. Before 24 hours had passed after the release of the mixtape, J-Hope had broken the record for most No. 1 songs on iTunes of any Korean solo artist, topping the charts in over 63 countries.
The mixtape includes seven tracks showing off J-Hope's undeniably unique voice and sound. The songs vary widely in the genre of hip-hop, from the slow and relaxed melody of "Blue Side (Outro)" to the catchy pop beat of "P.O.P. (Piece of Peace) Pt. 1"
Each song has a very positive and boppy feel to go along with the theme of Hope World.
Within the BTS group, J-Hope is known for his dancing skills aside from his position as a rapper. He clearly shares his love for street dance through the music, which will get any listener dancing, or at least swaying to the beat.
The title track has a nostalgic '90s sound and will have most listeners trying to sing along every time he says in English, "hello to my hope world." Other tracks on the mixtape include "Base Line," with an undeniable bass line that will get everyone on their feet, and "Airplane," which has a very chill and psychedelic background instrumental.
From the outside the mixtape may just seem like catchy music to American listeners, but J-Hope touches upon his feelings towards his bandmates in BTS and wanting to continue on with them in the future. He also sings about his dreams for the future.
Despite the growing popularity of K-pop around the world J-Hope's new music blows past any expectations set by fans.
About the Writer
Prudence Nowicki, Multimedia Editor
Prudence is a senior and a third-year multimedia editor. She enjoys a majority of her time listening to K-pop, watching anime, K-dramas and enjoying all...