They got the scoop: They covered sports — and food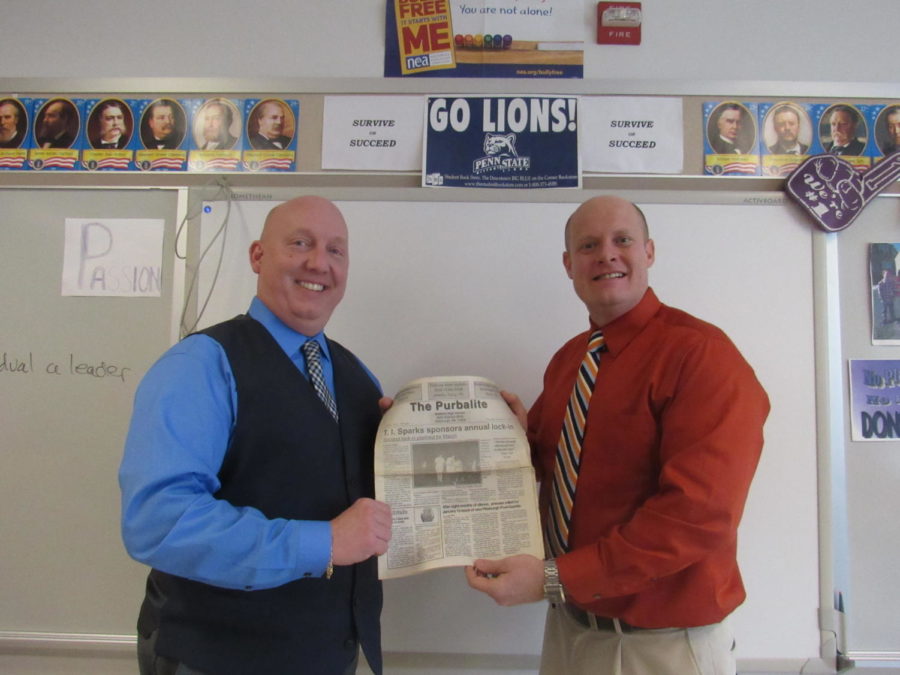 For Assistant Principal John Saras, joining the Purbalite during his time as a Baldwin student meant that he could get involved, interact with his peers, and write about sports.
"I enjoy athletics, so writing about sports allowed me to follow high school athletics and attend various sporting events," Saras said.
Along with sports, Saras enjoyed writing about news and issues outside of school.
One of the most memorable pieces he worked on was about Eat'n Park, written with history teacher Doug Graff, who was a fellow Purbalite staffer at the time.
Saras calls the story, an excerpt of which is at right, an "award-winning piece of literature."
The story explains all the reasons why Baldwin students had started hanging out at Eat'n Park. Saras is especially proud of its headline: "Some like it some don't."
Graff was just a junior when he helped Saras write the Eat'n Park story. While Graff enjoyed writing the story, he primarily wrote sports stories, like Saras did.
"I always played sports growing up and liked the life lessons," Graff said.
In his senior year, Graff was made sports editor. He also got his own column in print called "Doug's Den."
Both teachers had to participate in Saturday morning layout sessions from 8 a.m. to 4 p.m., formatting the paper to go to the printer.
Another key memory, Saras said, is climbing out the window in the old Purbalite room and "reflecting" on the roof.
Alas, the current Purbalite room doesn't even have windows.
About the Writers
Sarah Fader, Web Editor
Fades is a senior and a third-year staff writer. She loves Percy Jackson novels and obsesses  several other fandoms: Marvel, Flash, and Voltron among...
Morgan Ott, Video Editor
Morgan Ott is a senior and this is her second year on the Purbalite. She is video editor for the website. You can find her listening to Hannah Montana...