Student bakers pitch in for Cookie Extravaganza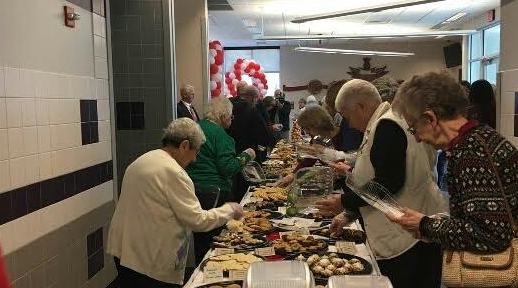 The first annual Cookie Extravaganza will take place at Baldwin on Monday, featuring 64 dozens cookies baked by Baldwin students, as well as more from staff members.
The purpose of the event is to give senior citizens, many of whom have not been inside the high school since its renovation, a chance to see what the building looks like and what goes on here, as well as to spread some holiday cheer.
Those who come will get to see the school, see the choir perform, interact with the preschoolers, and of course receive cookies.
Five different types of the cookies (chocolate chip, snickerdoodles, thumbprints, oatmeal with butterscotch, and sugar) will be served that were baked by Beth Fochtman's culinary classes over this past week.
"I encourage my kids to do acts of kindness and this just seemed like a perfect fit," Fochtman said.
Fochtman said some of her kids will help the cookies on Monday, but she doesn't know if they will have anymore involvement in the event. She also adds that her students aren't the only ones who contributed cookies.
"A lot of teachers and staff have made cookies too," Fochtman said.
She estimates that there will be a total of 160 to 180 dozen cookies donated to the event.
Fochtman hopes this event continues in years to come.