TV, radio, web journalists share stories with students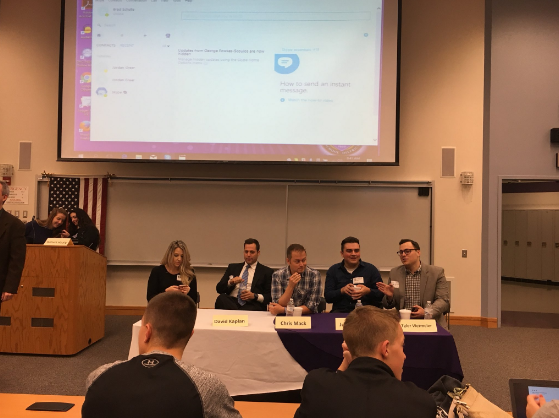 On Monday, WTAE reporter David Kaplan drove out to Penn State to cover a big development in the university's most recent hazing scandal, live tweeted details during the press conference while emailing his boss to plan the story, and then tracked down interviews to have the story ready for the five o'clock news.
Even in the midst of such a busy and controversial story, Kaplan said he tries to remember the people involved in it
"In order to write a story that will attract an audience, you need to find the heart of it that will appeal to everyone," Kaplan said.
Kaplan and six other local journalists discussed their typical work days and gave insights on the journalism field to Baldwin newspaper and broadcast students this morning during a roundtable discussion in LGI.
Baldwin grad Chris Mack, who hosts the pre- and post-game Pirates shows on radio station 93.7 The Fan, discussed the struggles of balancing family and work, and the difficulty of being out of the field for five years due to changes in the industry.
Mack said he learned from his years away from journalism by using connections he kept from his original radio experience.
"Take advantage of the resources at your fingertips," Mack advised students.
Jordan Greer, a Baldwin grad who covers the NBA for the Sporting News in North Carolina, said via Skype that sports journalists who cover famous athletes have to maintain perspective.
"When dealing with athletes of that scope, it is important to take a delicate approach because they are people too," Greer said.
Former Purbalite Editor Julian Routh, now a digital reporter for the Post-Gazette, said he likes to use interactive media to engage readers in a new way. Routh worked for several months on a report about Pittsburgh's hip-hop scene for a digital story that included video and audio clips, plus a contest for aspiring rappers that led to an artist showcase sponsored by the paper.
Aspiring journalists should never pass up the opportunity to build job connections, especially while working on internships, he said.
"Be sure to make personal connections, and never eat lunch alone," Routh said.
Stephanie Hacke worked for nearly 10 years for Trib Total Media before accepting a buyout and becoming a freelance journalist. She discussed the differences between gathering the news via interviews, and writing it up in news stories.
"The writing part is hardest for me, but I love reporting. I just have to find my groove for each story in order to get my point across," Hacke said.
Baldwin grad Tyler Vietmeier, who does camera and production work at WPXI, additionally works with local writer Mike Wysocki to create podcasts that also are broadcast on Facebook Live. Vietmeier focused on the importance of persistence in the journalism world.
"I still email people I look up to in hopes that I can get as much insight as possible on my own work and apply it to future work of mine," Vietmeier said.
Baldwin grad and Duquesne media professor Robert Healy said via video that students already should be working on building their portfolios via blogging and then tweeting out links to their work.
"So when it is time to get that paying job, you can point to writing samples that you have done and that you have published," Healy said.