New coach gives team new attitude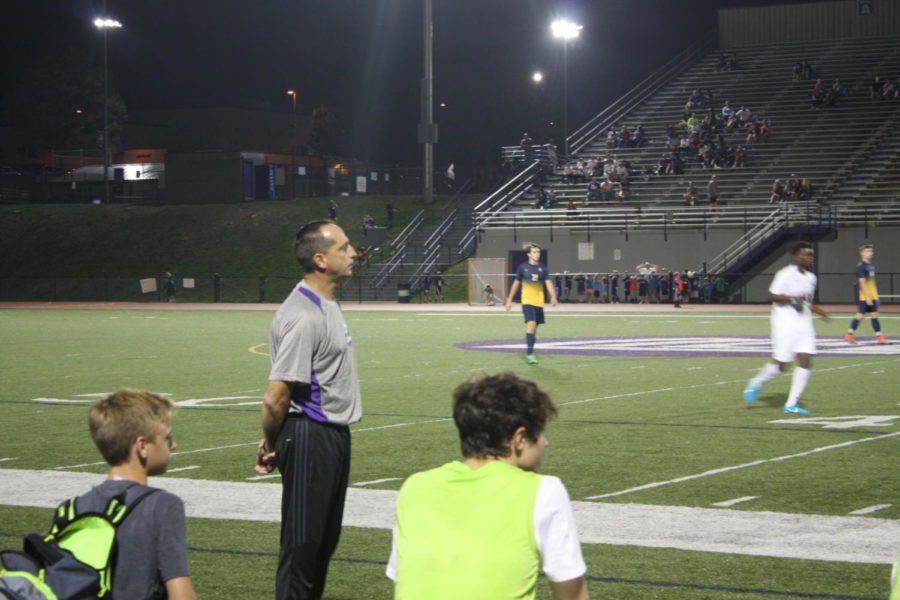 Many people don't get to say that they have met one of the greatest soccer players to ever play, but first-year boys soccer Head Coach Allen Duda has met Brazilian soccer star Pele.
"In high school I was named a Parade All-American, which led me to meeting Pele and it was the thrill of my life," Duda said.
Along with being named All-American, Duda brings plenty of playing and coaching experience to the soccer team.
Starting at the age of 10 and throughout his playing career, Duda played striker for his travel, club, and school teams.
He played his high school soccer at Peters Township, then went on to play midfielder for Westminster College and Slippery Rock University.
Along with his playing experience, he has coached at numerous places before joining Baldwin.
"I have coached many teams, including travel and high school soccer for Bethel and Peters, as well as college as a head coach for Westmoreland Community College and as an assistant for Carlow University," Duda said.
As coach at Baldwin, he wants to instill his philosophy on a team-first mentality with a simple game plan.
"As a coach I bring patience, positivity, and a team-first attitude, along with a simple possession game plan for the team," Duda said.
Senior Laun Thar Eh respects that new game plan.
"This year Duda has brought more of a passive tactic to the team with more passing to control the play, as in the past we were more of an aggressive team," Eh said.
To make Duda's game plan effective, the team runs strong practices heading into the games, players said.
"We run a more upbeat practice and he makes a strong focal point towards what he is trying to teach us," junior Jared Bell said.
Since Duda's introduction to the team, the players have felt a new wave of swagger and attitude for Baldwin soccer.
"Duda has brought a new atmosphere, culture, and a maturity level to our team and that has been reflected towards the other team gaining more respect for us," Bell said. The team feels more cohesive, Bell went on to say.
In Duda's first year at Baldwin, the team finished 3-7 in section and missed the last playoff spot to Mt. Lebanon, which finished 3-6-1.
But players are satisfied with the season and hopes are high that Duda can improve boys soccer to establish a winning culture, Eh said.
The team overall is happy about their new coach and are looking forward to working with him in years to come.
"He is a good addition and a great coach and he will be able to help the program in the future," Eh said.
About the Contributors
Nathan Breisinger, Sports Editor
Sports Editor Nathan is a senior and this is his third year on the Purbalite. He plays hockey and baseball and he can be found watching, listening, or...
Flynn Travers, Staff Writer
Flynn Travers is a senior and a third-year staff writer for the Purbalite. He plays sports and watches anything sports-related. He also enjoys watching...