Emma Brandwene preps to kick for the football team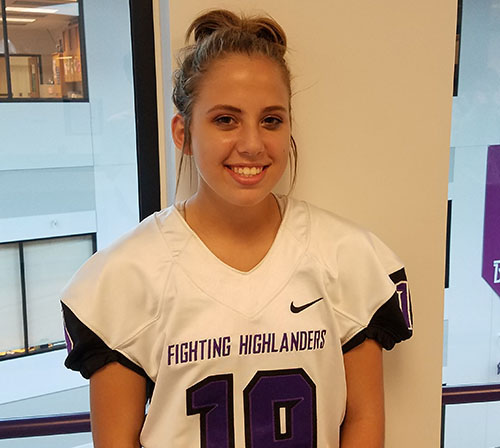 A tongue-in-cheek bet has led to the addition of the only female player on the Baldwin football team.
Sophomore Emma Brandwene has begun to prepare to be the kicker for Baldwin's JV team. She is expected to play in the game on Saturday against Upper St. Clair.
Brandwene was at practice with the Baldwin girls soccer team earlier this week when Tom Simcho, the football team's kickers coach, approached her and asked her to try to kick a field goal.
"Simcho told me to to put on my cleats and try to make a field goal," Brandwene said.
Simcho acknowledged that he was surprised when Brandwene drilled the kick.
"When she kicked it, I thought there was a chance this could actually be a possibility," Simcho said.
The soccer-football connection seems to run in the family: Emma's brother, junior Jackson Brandwene, is the backup varsity kicker on the football team and the starting goalie on the varsity soccer team.
Even though she's the only girl on the team, Emma Brandwene is enjoying her time on the team already.
"It's been fun," Brandwene said. "Everyone has been really nice about having a girl playing with them."
Brandwene is anxious to step in and perform for the Highlanders.
"I'm pumped. It's very exciting to play my first game in a new uniform," Brandwene said.