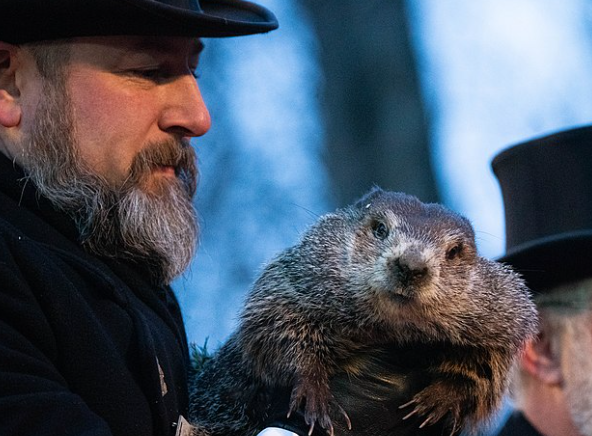 6 more weeks of winter, or more years of this foolishness?
February 2, 2023
It's time to say goodbye to the groundhog
This morning, Punxsutawney Phil was raised high and cast his shadow over a crowd of thousands, meaning he predicted six more weeks of winter. 
The idea of a groundhog declaring six more weeks of winter or an early spring is just ridiculous, especially considering how wrong Phil in particular tends to be. Unsurprisingly, Phil has an all-time accuracy rate of 39 percent, according to the Stormfax Almanac. 
Since Phil is a Pennsylvania native, other candidates like Gus the Groundhog, the mascot for the Pennsylvania lottery, should probably be considered as a replacement. Despite Gus being a takeoff of Phil himself, he's just more likable and most importantly — he's not a real groundhog.
Every day of the year, despite the tradition of Groundhog Day, Phil is left in a manmade burrow connected to the Punxsutawney Memorial Library, where visitors can see him through a viewing window. This, needless to say, is not natural for a wild animal.
A few other states have had clones of Phil, like Staten Island's very own Chuck or New Jersey's Milltown Mell. Some copycats even exist in Canada. This begs the question: Which one can be trusted?
Mell even passed away shortly before his big day in 2022, leaving people with no idea of what weather to expect. Yet Phil's handlers claim he's been alive since the first Groundhog Day celebration in 1887 due to an "elixir of life" that makes him immortal.
This magic potion is given to him by his "Inner Circle" of members of the Punxsutawney Groundhog Club, all of whom wear strangely formal clothing like top hats and tuxedos. That speaks for itself.
Groundhogs are known to have a keen sense of sight, smell, and hearing – not for their weather-predicting ability. Phil should just stick to burrowing like every other groundhog.
Leave a Comment
Rich in state history, Phil also brings in the money
To modern society, Groundhog Day may seem like a pointless, silly tradition, but the holiday is rich in Pennsylvania history. 
According to CNN, the groundhog tradition, introduced by Dutch settlers, dates back to 1887. Groundhog Day was originally a Christian holiday called Yoder, which celebrates the "turning point" of the year. 
However, the introduction of animal meteorology began when German immigrants settled in Pennsylvania. Some of the early Germans viewed the groundhog as a "Candlemas weather prophet." Thus, the legend of Punxsutawney Phil was born. 
The popularization of the holiday, however, really took off with the 1993 romantic comedy, Groundhog Day, starring comedian Bill Murray and actress Andie MacDowell. The movie follows the life of an egotistical weatherman, Phil, who repeatedly experiences Groundhog Day until he gets everything right. 
The film proved to be a booming success, earning 94 percent on Rotten Tomatoes. 
After the film, several renditions of Punxsutawney Phil sprouted all over the globe. Now, Balzac Billy from Balzac, Canada, Fred la Marmotte in Montreal, and Buckeye Chuck of Marion, Ohio, among hundreds of other groundhogs, predict the season's future. 
Not only did Punxsutawney Phil gain national fame, but the town of Punxsutawney experienced commercial success. In a WTAE report, Punxsutawney Chamber of Commerce President Katie Laska said the holiday boosts the town's economy exponentially.
"We have 6,000 people that live here, and it swells to 20,000 or 30,000. You can just imagine the impact that it has on our economy here," Laska said. 
Although Punxsutawney Phil's predictions may only have a 39 percent accuracy rate, the spirit of Groundhog Day ensures a sense of community and renewal – even if Phil declares that winter will persevere for six more weeks. 
Leave a Comment