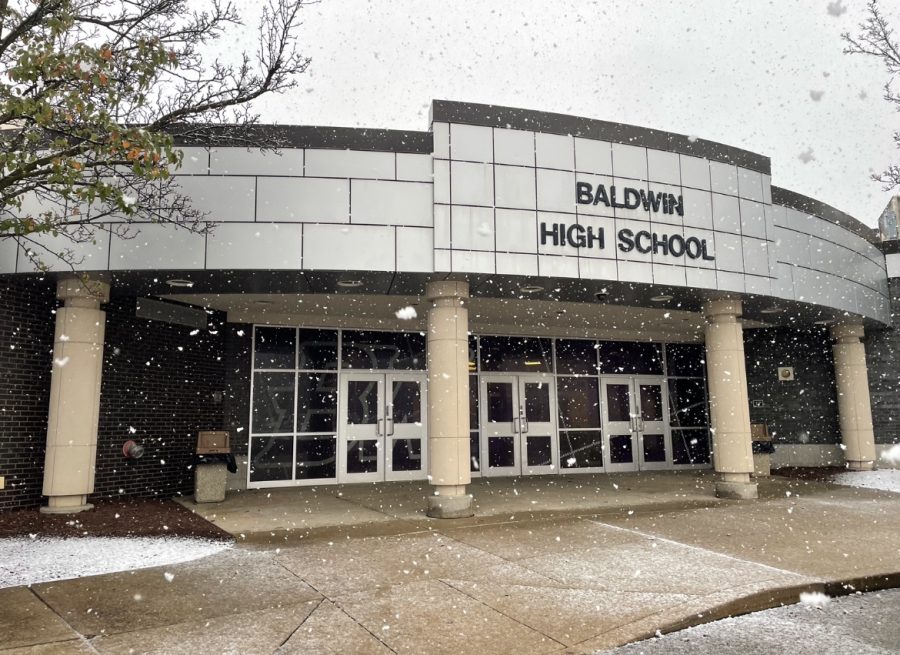 Long-term vision: Veteran teachers reflect on changes, improvements over the years
December 9, 2022
A while back, students in class would take out a spiral notebook and write notes by hand. When the bell rang, they would carry backpacks full of textbooks to their next class.
This might seem like ancient history to today's technology-infused high school students. But for some of Baldwin's veteran teachers, this was a daily reality for part of their careers.
Life at Baldwin High School has changed a lot over the years – new courses, all of the new technology, and a mostly new building after the high school's renovation project.
.
Teachers who have been at Baldwin for 20 or more years have seen all of these changes, and they have taught a lot of children. Here are some of those veteran teachers and some of their memories from over the years.
Giles has seen former students go on to success
Baldwin High School alum Elizabeth Giles has been teaching physics at Baldwin High School long enough that one of her former students is now one of her bosses.
"Dr. Janeen Peretin, who is the district's technology director, was once a student of mine, and now she's a boss of mine," Giles said.
When Peretin was first hired in Baldwin; she was a high school math teacher, so she and Giles had time to catch up with each other and had some laughs about the days when Peretin was a student.
"She was conscientious, always prepared, and did very well. It's been wonderful to see her be so successful in all her endeavors," Giles said.
Other students Giles taught have pursued careers in science.
"Katie Barry, a former student of mine, is now a physics teacher, and John Alison is now a professor of physics at CMU," Giles said.
Giles is in her 32nd year teaching in the district. She now has had the experience of teaching the children of former students.
"At first it made me feel very old, but once I got used to it, it became cool to catch up with my former students," Giles said.
Technology has changed a lot about teaching, including how students' report cards are put together.
"Back then, teachers used a calculator to add up all of a student's scores in a quarter, divide to determine the student's percentage grade, and then bubble in the grades on a form," Giles said.
The major renovation of the high school took place between 2006 and 2009. Much of the existing building at the time was torn down in stages, with a new school being built in the same footprint – and classes continued through it all.
"I taught in a trailer in the central parking lot and in the old faculty lounge. Some science teachers taught in locker rooms, with urinals on the wall," Giles said.
One thing Giles misses is the breakfast day for seniors as their final year wrapped up.
"Seniors would decorate their cars and have senior breakfast day. We don't have that anymore and I'd like to see that return," Giles said.
Barno has seen both sides of increased tech use
Veteran English teacher Amy Barno sees both the good and bad in technology as Baldwin High School's curriculum has advanced.
Barno likes the impact of students having laptops and the district using Canvas.
"I think having the one-to-one technology we have is very beneficial, to be able to hold students accountable at all times for their assigned work," Barno said.
But with the rise in cell phone use among students, Barno has noticed a decline in school spirit compared to previous years. 
"Before phones, people needed something to do, so they would join in on many more activities at school," Barno said. "There used to be a sea of purple on Fridays, and now you don't see that."
Barno, who has taught for 24 years, has made a lot of memories – some of them coming from the high school renovation project.
"It was a challenge to be displaced around the building," Barno said. "Classes were sometimes held in locker rooms and we even had a makeshift hallway we had to go through to get places."
Barno also recounts some fun activities the school used to participate in. 
"I always enjoyed the Senior Assistant day because it raised money for charity and to me, brought a lot of school spirit by students interacting with each other from different grade levels," Barno said. 
One benefit of being a veteran teacher for Barno is her being able to reconnect with past students and their children.  
"I enjoy being able to see some of my old students as parents at the open houses, and it's nice getting to connect with their children by having them in my classroom," Barno said. 
One of her former students is Lee Terbosic, a successful magician who has appeared on America's Got Talent and at the Liberty Magic theater downtown.
Barno remembers letting Terbosic work on card tricks after he finished his work in class. Later, when he started performing his downtown show, "52 Up Close," Barno went to see him perform.
"I believe a previous mayor of Pittsburgh named a day 'Lee Terbosic Day,'" Barno said. "I had him when he was in 11th grade."
In terms of her approach to teaching over the years, Barno said the birth of her daughter had a strong effect.
"Since becoming a mom, I think I have become more compassionate and I try to give my students a say in how we approach classroom activities," Barno said.
Laughlin says phys ed classes have changed, but mission the same
Teacher Tim Laughlin remembers that during the high school renovation project, academic classes were held in the gym and so physical education classes had to be held outside of the normal gym setting.
Laughlin and the other teachers in the health and physical education department took classes outside to sled ride and play snow soccer, and they used the locker rooms for yoga classes.
"We just had to get creative. It made you think outside the box," Laughlin said.
But once the renovations were done, the finished results benefited the students and staff, he said.
"We have two gymnasiums, a phenomenal pool, LGI rooms, and a better auditorium. All of that enhances our education," he said.
At the beginning of his teaching career at Baldwin, the district only offered a regular gym class, and students were required to take gym class all four years. They also had to train to complete certain requirements, such as a mile run in their freshman year.
Since those years, courses such as Partners PE, weight training, yoga, and outdoor adventure have been created with students in mind. Laughlin also became water safety and archery certified to teach these classes.
"We try to create something that (students) will take with them," Laughlin said. "This is where a lot of our curriculum changes come from."
Still, Laughlin said that the fundamentals of a physical education class will never change.
"It's the social skills, the teamwork, and how to interact and be a positive social influence," Laughlin said. "We teach healthy lifestyles, what it's like to cooperate, and (how to) be a leader or role model."
Laughlin began teaching in 1999 in the Pittsburgh Public School District. He was hired at Baldwin in 2001 and has since taught at the high school level.
During the beginning of the pandemic, Laughlin realized that educators had to be a constant figure in students' lives. He believes that while teaching is challenging, education is a vital part of each student's life.
"(Students) are still young adults who need guidance and support," Laughlin said. "I know the benefits and what happens, not only in mind, body, and spirit, but socially."
Laughlin is known among students for his positive attitude, upbeat nature, and words of encouragement.
"You always have to work to be better. You have to put the work and energy into it. It's not always just given to you," he said.
Fagnilli takes inspiration from her role models
A lot has changed since Susan Fagnilli started teaching English at Baldwin High School.
"We had one desktop computer in the English planning room and one phone in the English planning room," Fagnilli said. "Plus, it was a completely different building. … I was in a classroom without windows, which is why I now have my blind open daily."
Fagnilli has taught for 27 years, with 24 of them being at Baldwin. She also served for 15 years as a sponsor of the junior class.
"We heavily promoted school spirit and also planned events like junior prom. We had meetings once a month and even made matching T-shirts for each class. We had fun," Fagnilli said of her years as a sponsor.
She has many fond memories from her early years, and she continues to approach her teaching with a positive attitude even as she has taken on teaching different courses.
"Moving into teaching Advanced Placement and college courses is extremely demanding. There is more material to cover, and a subconscious pressure for both the teacher and the students," Fagnilli said. "With that being said, we are fortunate to be able to offer these courses, and I am grateful that I am able to fill our younger generations with a new wealth of knowledge."
Like most teachers, Fagnilli has special memories of some of her own teachers growing up as well.
"At my schools, Mrs. Sevrin was creative in her approach to literature, plus I loved reading. Miss Ado was the kindest teacher and I genuinely knew she cared about her students," Fagnilli said.
These moments from her own schooling heavily influenced the ways she teaches and the relationships she has with students today.
"I am so grateful for the students I have had over the years, especially the ones who keep in touch," Fagnilli said. "I love that every day is a little different."
She emphasizes the importance of positivity and maintaining a good attitude while students work to ensure success in the classroom and in the future.
"Always work to your best potential," she said.
Deemer helps guide seniors in interview project
Social studies teacher Richard Deemer has seen some changes over the years in the Society and Careers class he teaches, and the associated senior interview project, which he now helps run.
"We used to have marriage and family courses and regular government classes," Deemer said. "The class I teach, Society and Careers, has undergone many changes."
One of those changes came in response to a state requirement.
"We used to require volunteer hours, then the state wanted career readiness," Deemer said. "So we introduced career mentoring instead."
Society and Careers helps students prepare for their interview project, one of the biggest events of the year for seniors. Among the concepts covered by the class are career research, personal budgets, investments, and preparation for an interview with a panel of staff and community members.
Baldwin introduced the project to give seniors experience interviewing and feedback on how the interview went. Deemer has been helping lead the project for the past four years.
"I think it's very important that the seniors know what a real interview is like," Deemer said. "They come here professionally dressed and their nerves are to the ceiling, but they come out feeling successful."
Deemer, who has been teaching for 26 years, believes his perspective on teaching has changed since he had his own children.
"Having kids makes you work harder because you want their own teachers to do a good job," Deemer said. "Why not put that same effort in for other students' parents as well?"
He recognizes that teaching is a job that requires adaptability, which was definitely the case during the high school renovation.
"History classes were put in the small gym, separated by partitions. You could hear exactly what was going on in the next room," Deemer said.
Deemer helped start the girls lacrosse program at the high school in 2004. He was an assistant coach for four years and then took over the program, coaching until 2016.
"I love the connections that you make with your athletes," Deemer said. "Seeing them grow and then talking with them about the good old days is heartwarming."
Since Deemer started teaching, he believes that he has learned from his mistakes and grown as a teacher.
"I think I've grown in content and knowledge. I've found new ways to teach and direct students in a way that makes class interesting," Deemer said.
For Simcho, math is a process that requires dedication
Math teacher Thomas Simcho almost studied to become a Spanish teacher.
"I had a Spanish teacher who had a big impact on me, and I enjoyed Spanish. But my dad persuaded me to go the other way" and study math, Simcho said.
Simcho said he thought it would be a more practical degree to fall back on if teaching did not work out. He likes the sequential nature of math and the challenge that it presents.
"The problem is too many people think it is about the final answer, when in actuality it is the process," Simcho said.
Simcho often stays after school to help students who are struggling, or who just want more practice.
"The more time you put into it, the better you are probably going to be at it," Simcho said.
Simcho holds students to a high standard because it is what he has been taught his entire life.
"If you are going to do something, you do it at your best," Simcho said
Simcho also has coached a variety of sports teams, including baseball, basketball, wrestling, soccer, and football. Baseball is Simcho's favorite sport to both coach and play.
"I see baseball as a game of chess. It is a team game, but individual at the same time," Simcho said.
Simcho believes that sports teach many lessons, like teamwork, failure and success. But the most important thing about sports is the friends athletes make along the way.
"Those relationships that you build over the years, that is really why you do it," Simcho said.