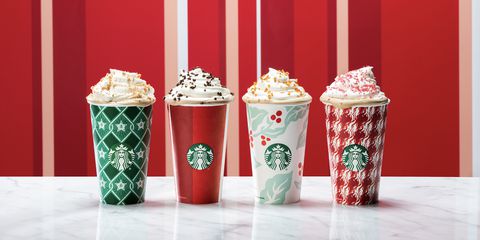 Photo via Starbucks
The 15 School Days of Christmas: Holiday coffee cups ring in the season with less controversy
Holiday-themed coffee cups are back locally and nationally, but this time with less controversy.
Coffee shops are among the big advertisers during the Christmas season. Starbucks, Dunkin, and Crazy Mocha all create a holiday version of their beverage cups in hopes of boosting both their sales and consumers' holiday spirit.
These companies usually create both a classic cardboard cup that someone would get in the store, and also coffee mugs that people can purchase and then reuse. These businesses create different holiday-themed designs on mugs for hot drinks and select styles of cups for cold drinks.
There is a huge hype within the coffee community for these holiday cups. Many people get excited to see what the mugs and cups will look like each year.
Sometimes, they get excited because of the controversy. In previous years, Starbucks has been slammed for cup designs that some people claimed took the religious meaning out of Christmas.
In 2015, Starbucks' plain ombre design was criticized for allegedly taking Christ out of Christmas. Then in 2016, people thought the company's green cup with hundreds of faces on it was a slam at then-new President Trump by emphasizing unity throughout the world.
In 2017, critics saw a pair of hands on the Starbucks holiday cup design and thought it was meant to represent support for gay people.
This holiday season, Starbucks came out with four cups, all with fairly generic holiday themes, keeping the controversy to a minimum.
Meanwhile, many coffee shops also will sell Christmas ornaments and small items to purchase.
The coffee industry along with other restaurant and retail businesses further get in the holiday spirit by creating holiday-themed gift cards.
Some places have a variety of gift cards for the consumer to pick from. For example, some places have Christmas-themed gift cards, Hanukkah-themed cards, and then just holiday-themed gift cards that are not religion specific.
Companies make these items both to help their bottom line, and also to help their customers better get into the holiday spirit.