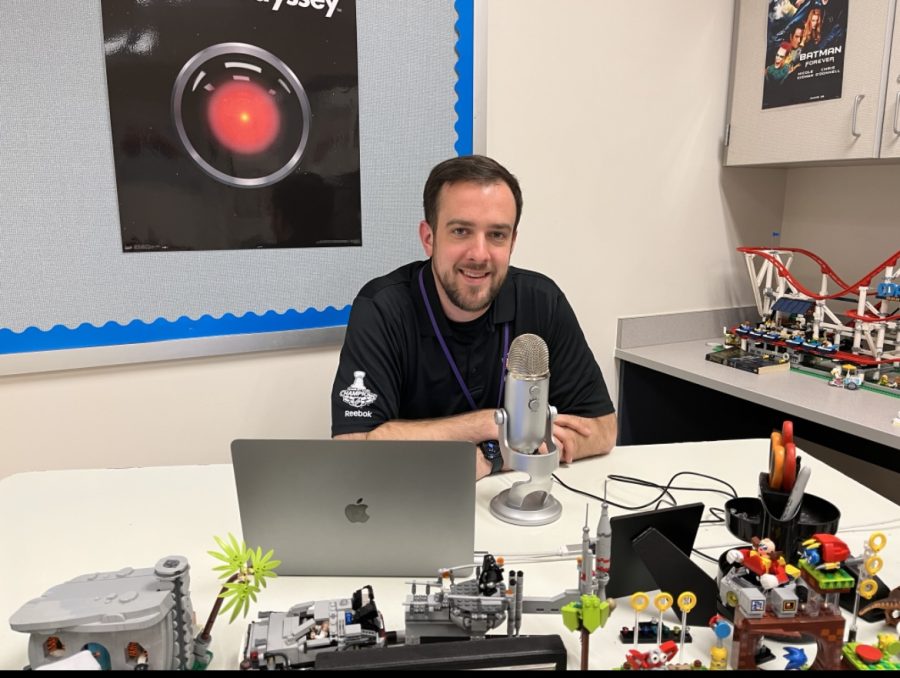 Photo by Ethan Spozarski
Lots of movie fans tune in to the Oscars to see which film wins Best Picture. But English teacher Dr. Dan Harrold has a podcast discussing every Best Picture winner there ever was.
Harrold teams up with an old high school friend to record the Cinema Cemetery podcast every two weeks or so. Harrold, a movie enthusiast, and his friend, a podcast enthusiast, decided to work together about two and a half years ago, he said. 
"While I had seen every Best Picture winner about a decade ago, my friend had not, only having seen a dozen or so," Harrold said. "We saw this as a good opportunity to check out and discuss a lot of good movies, as well as see how films have changed throughout time, and reflected the different time periods," he said. 
They already have made their way through a lot of the Oscar winners.
"We do about two to three episodes a month, and have currently made our way from 1928 all the way to 1999. Our next episode is going to be Gladiator," Harrold said. 
Among the Oscar winners, Harrold has some favorites. 
"Some movies are classic epics for a reason. Lawerence of Arabia, The Godfather, and Gone with the Wind remain timeless classics for their scope and scale. Other older films, like All About Eve and It Happened One Night, remain excellent too," Harrold said. 
On the other hand, some movies are difficult to watch today, for a variety of reasons.
"While the older movies can be challenging – the early sound films like The Broadway Melody (1929) or Cavalcade (1933) are rough – a lot of them have surprising value," Harrold said. 
"It's typically been the overly dramatic slogs of the 1980s that have aged worse, like Ordinary People (1980) and Terms of Endearment (1983), or the less popular musicals Oliver! (1968) or Gigi (1958).
Harrold is determined to finish all Oscar winners all the way to present day, but then he wants to continue doing podcasts about movies. 
"At this point, we're definitely in it to finish. We've got another 23 or so episodes until we finish the list. We've been ranking the movies as we go so we'll have a final tiered list at the end," Harrold said. "Beyond this, we'll likely continue the podcast with new mini-threads, examining a mixture of new and old films," he said. 
Harrold does the podcast for enjoyment. 
"This is definitely just something we do for fun, since we have very few listeners. So we try to make sure it's something that doesn't become a chore," Harrold said. 
Cinema Cemetery can be found on Spotify through this link:  https://open.spotify.com/show/4HizgGDrwMjJeoYlavl5cY?si=EPa6A2r8Rcu8Mnoywu6f2A