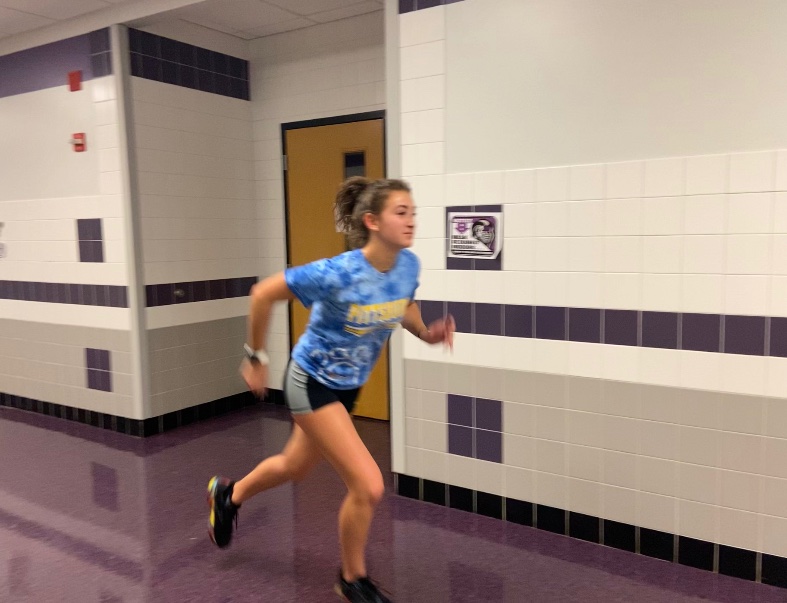 Brooke Scanlon
Not many athletes like to run, yet alone every day. But back in seventh grade, Kenzie Hirt raised money for charity by running a 5k every day for 50 days straight.
Hirt, who is now a sophomore, wasn't always into running, though. She started her athletic career playing soccer.
"The summer before seventh grade I did a mile a day, every day for a year," Hirt said. "This started because of soccer."
Hirt's father played a part in getting her interested in running.
"My dad runs ultra marathons," Hirt said. "I started running 5Ks with him and thought, `Why not keep going?' "
Hirt later decided to focus on running rather than soccer.
"I did track in seventh grade and won a lot of the meets," Hirt said. "I realized I was better at running than soccer." 
Hirt not only dominates in track, but in cross country as well.
 "This past cross country season I PR-ed sub 20 minutes at the second meet," Hirt said.
Hirt also qualified for WPIALs for the second year in a row. This is especially impressive for a sophomore, senior Olivia Macellaro said.
"Kenzie's times are insanely impressive for a young member of the team," Macellaro said. "She gives us hope for this season."
Hirt is hopeful for promising seasons in both indoor and outdoor track.
Even though Hirt's first season of high school track was heavily affected by Covid-19, she still performed well and enjoyed the experience.
"I really liked track last year. The last event I ran was the WPIALs 4×8 relay with a PR of four seconds," Hirt said. "I'm looking forward to seeing if I can break my PR in an open 800 this year, since I run better when I'm in relays."
She runs the 1600, 800, 400, and 4×4 relay and is hoping to make it to states for both indoor and outdoor track.
"I believe she can make it to states. She has great times," Macellaro said. 
Along with her dad, Hirt is also inspired by Baldwin graduate Lena Barakat. 
"Lena was always the most committed," Hirt said. "Watching her bring down her time was awesome and it inspired me to try harder." 
Hirt has herself become an inspiration for the cross country and track teams.
Senior Dominick Ditoro said Hirt "never has any excuses."
"She has impacted the team in a positive way," Ditoro said. "She has an overall good attitude about running and always works hard."
Macellaro agreed.
"She motivates everyone, including me, to work harder and strive for success," Macellaro said. "She loves dragging me to the gym after practice to lift. She goes very frequently."
Hirt's talent has been evident ever since she first joined the high school cross country team. 
"We kind of knew when she joined the team she was going to be very good," Ditoro said. "Her freshman year she ran some good times. It was almost expected."