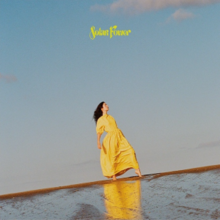 Image via Google
The best way to describe Lorde's new album, Solar Power, is one word: underwhelming.
After a long four-year wait since her critically acclaimed album Melodrama, Ella Marija Lani Yelich-O'Connor, commonly known by her stage name Lorde, has released her greatly anticipated third studio album. Lorde fans who were patiently waiting for a new album that would be up to her previous standards will perhaps be disappointed, but will still find some lyrical gems among an LP full of filler.
Songs like "Solar Power," "Mood Ring," "Stoned at the Nail Salon," and "The Path" stand out on the record as being noticeably better produced and thought out. The lyrics on these tracks are more meaningful than the shallow lyrics of other songs. 
These songs are  more full-sounding, along with seeming to be more personal to Lorde herself. Other songs on the album can almost be seen as impersonal, practically as if they were written by someone else entirely and only performed by Lorde.
Songs such as "Dominoes," "Big Star," "Fallen Fruit," and "The Man with the Axe" are the low points on the record. The songs don't seem recognizable from one another — just bland songs to fill the album with generic and meaningless lyrics. 
While her previous records had deep, thought-provoking lyrics and an overall theme that was reminiscent of a concept album, Solar Power's theme seems to be as superficial as summer songs. 
Additionally, when looking at her previous album, one can see intense deviation from song to song with extreme highs and mellow lows, creating a fullness on the LPs. On Solar Power, however, every single song has the same feeling — medium-paced, summery, and dreamy — with almost no exceptions.
Overall, given the talent Lorde has, Solar Power could have been more than what it is: An album with too many insipid moments and just a few memorable songs.