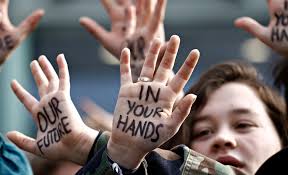 Photo via Google Images
Older people like to point fingers at Generation Z and claim that they are lazy, stay inside too much, and do not have proper respect for outdated rules. 
But Baby Boomers and some Millennials are just uncomfortable with Gen Z because of how different they are in composition, lifestyle, and activism. 
Generation Z in America will have more diversity, ethnically and racially than any other generation before them. This new generation of adults is predicted to be the most well-educated and successful generation that this planet has ever seen. 
Generation Z is known for confronting long term-issues head-on, including racism, sexism, and homophobia. This is a generation that has experienced serious global issues with terrorism, economic depressions, hate crimes, and climate change. 
There have been more social movements since the Civil Rights era led by this generation. Just within the last year movements for George Floyd, anti-lockdown protests, and the day of silence for the LGBTQ+ community were just a few protests that expressed nearly all parts of Gen Z's power. 
For Generation Z, there is no definition of "normal" that they hold to people in society. 
Social media of course has a huge influence on everything from fashion to what is accepted in society. The good part about social media is that almost everyone has it and there are a plethora of different kinds of people who post. 
Generation Z is able to see a broader spectrum of people than just those who are in their own neighborhoods. They can be comfortable with themselves and express themselves because of the wide range of communities over social media. 
Generation Z's vast acceptance of people who previously have been victims of hate has created a peaceful unity within the community.
But Gen Z is shown to have the worst mental health the world has ever seen. Higher academic standards, the economy, gun violence, and the pandemic have all made Gen Z develop severe mental health issues, especially in the United States. 
Despite all of the violence, hate, weak mental health, and setbacks, Generation Z has proven that they can and will persevere through it all, proving that they are the world's strongest generation.