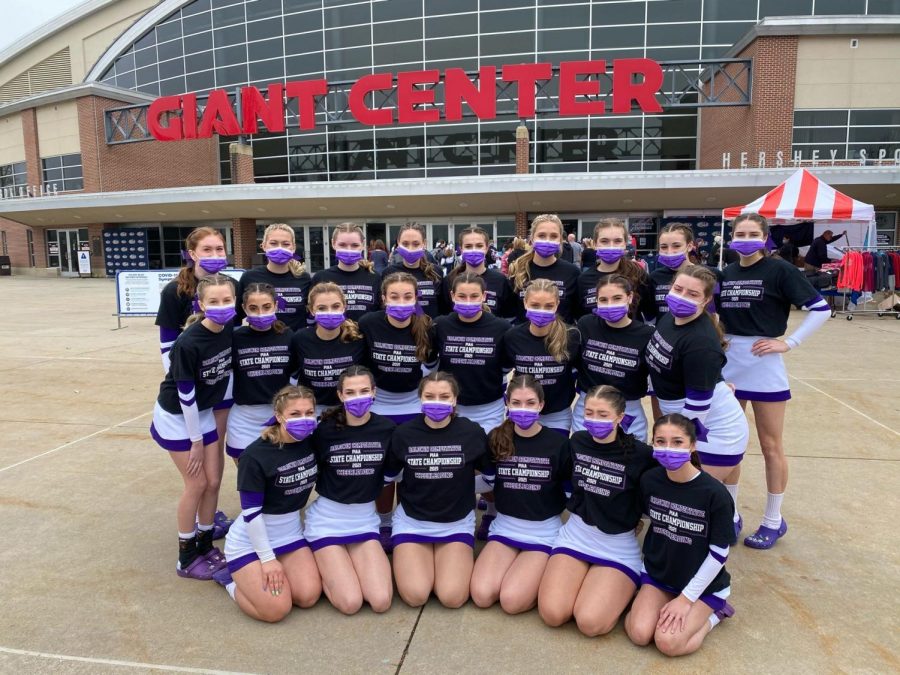 Courtesy of Baldwin Cheer
The cheer team finished in third place at states over the weekend, which was only the team's second in-person competition all year. 
The first in person competition of the year took place at WPIAL championships last month, so senior Taylor Mincin said the team was nervous going into states.
"It was very nerve-wracking knowing that two of the biggest competitions of our cheer season would be the first times we would face the mat in front of a crowd," Mincin said.
Mincin said that despite the team's nerves, the competition went extremely well.
"We hit our routine with zero deductions and had the best performance we've had all year on the states mat," Mincin said.
The team's journey to states was not an easy one, with many setbacks and obstacles along the way. 
"This year has been really crazy cheer wise, and we never thought we'd make it to states with the conditions we were faced with," Mincin said. "We had multiple quarantines and setbacks, but somehow we pulled it all together.
Mincin said that she is proud of the team's effort and didn't expect to have such a successful season. 
"Just being able to make it to states this year made me extremely proud, and placing so well was so unexpected with all of the complications, but that only made our success sweeter," Mincin said.
Mincin said that the team's practices leading up to states didn't go as smoothly as they had planned. 
"Two days before the competition we had to readjust our whole routine, so we had to pick up extra practices to make the changes," Mincin said. "The changes we made were picked up very quickly and many people stepped up big time to fill in the positions that we needed them to."
Mincin said that one of the girls who had a big impact was sophomore Samantha Davis.
"Sammy has done a really good job of keeping the morale of the team up even when everyone is exhausted," Mincin said. "She continuously proves that cheer isn't just a sport, it's a mindset."
Mincin also commended freshmen Carly Birks and Grace Iaquinta for competing for the first time this year and doing so well.
"The team will definitely succeed next year and for years to come, and I can't wait to see what they'll be able to accomplish after this year's seniors are gone," Mincin said.