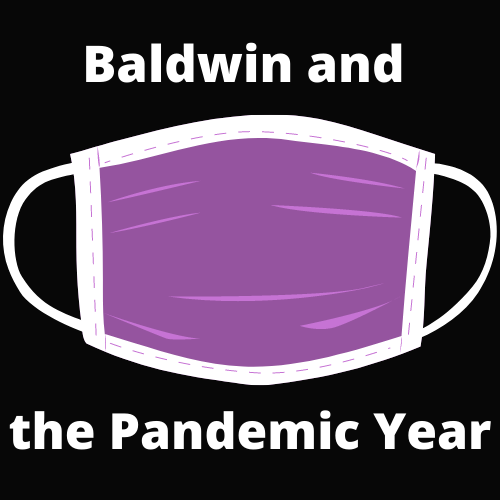 Photo via the Purbalite
Yet once school started back to four days a week for most students, he felt a considerable change. 
"Coming back four days has made student-teacher interactions a reality. With the more natural interactions I noticed how easy school was becoming," Brazill said.
Junior Josh Vargo found some of the academic challenges of the past year to be a positive rather than a negative. 
"I thought it was a struggle, but fun to learn new thing Junior Grayson Brazill was preparing to finish his academic year strong last year, but his aspirations were crushed by the pandemic shutdown that started last March. 
"I was very excited for the tail end of my school year last year," Brazill said. "But when COVID hit, my whole life was turned upside down, and I started to prioritize school less."
This past academic year has been difficult for every person in the realm of academics. 
Brazil said his biggest struggle this school year was motivation. He found it hard to make every online class and to even get up in the morning, knowing he would be staring at a screen for hours. 
gs like Canvas. I got to experience something different," Vargo said. 
Not everything about Canvas was fun, though, he said.
"Having everything due at 11:59 p.m. is frustrating," Vargo said. "The pressure gets to me."
Junior Quintin Michalski had issues with Canvas initially.
"It was tough, mostly due to the fact that it was a new platform to so many people, including the teachers."
He started to feel more comfortable with it by the end of October. 
"I feel like the little stress that was left was because class got held up due to teachers still trying to figure out Canvas," Michalski said. 
He said that the pace of the classes did help him in the long run.
"I think I have done better this year. You can work at your own pace," Michalski said. "The set-up has worked great for me." 
Students were not the only ones experiencing challenges this past year. Teachers also have faced significant obstacles, English teacher Krystal Schulte said.
"Today's situation certainly offers us at times seemingly insurmountable struggles: For teachers, learning an entirely new online system in a brief amount of time, creating entire units from scratch to engage both asynchronous and synchronous learners, and exploring countless new online tools to help in the process," she said.
Schulte also saw positives, however.
"With these struggles comes the opportunity for growth and a meaningful bond with students as we help motivate each other to continue showing grit and a desire to achieve against factors out of our control," Schulte said. 
Students going to Steel Center for technical programs were faced with many drawbacks of their own with online learning. 
Senior Bayleigh Bartic attends Steel Center's cosmetology program. 
"Before this year started, I had no idea how I would finish the program with all of my hours," Bartic said. "Steel Center changed some of the requirements so people at home could still earn hours by doing worksheets and other activities."
Bartic is glad she'll be able to graduate with her cosmetology license, but she's disappointed that some opportunities were limited this year. 
"Typically, we'd be able to have clients come to Steel Center and receive services, but due to COVID, this opportunity was taken away completely," Bartic said. "I also feel less prepared than I would have been in a normal year, because I've had less time to practice hands-on skills." 
Outside of issues with Steel Center, Bartic found learning at home to be difficult and unsatisfying. 
"I found it very hard to learn from home because of all the distraction," Bartic said. "I could barely focus and I just wanted to be back in my normal routine." 
However, students said their families appreciated the availability of the online learning model because of the safety it provided during the pandemic. 
Senior Dipseka Timsina's family had many worries about her returning to school, and remote schooling offered a safe alternative. 
"My parents were stressed about me going back to school, especially without having access to the vaccine yet," Timsina said. "It's great that I've been able to keep my family safe and protected, but I still miss seeing people and staying after school to bother my teachers." 
Timsina said she also was disappointed in the major changes to clubs and after-school opportunities. 
"I'm on the Earth Club executive board, and before the lockdown we had great plans in place for this school year," Timsina said. "We were talking to Mr. (Shaun) Tomaszeski and other faculty members about creating a butterfly garden and outside seating area on campus, but all of those plans went down the drain. It's especially frustrating because everyone on the board is a senior this year, so we'll never have a chance to bring our plan to life."
Senior Julianna Fedorko is the president of German Club and has had many challenges keeping people involved. 
"It's been really hard to keep people involved and excited to join clubs because we aren't allowed to eat together and play the games we used to," Fedorko said. "We tried having an online club option, but it just wasn't the same." 
Freshman Makenzie Hirt feels that the changes due to COVID have made her first year of high school more challenging and harder to adapt to. 
"I always thought I'd have an exciting freshman year and make a bunch of new friends, but that just wasn't possible," Hirt said. "It was hard transitioning to a high school curriculum while trying to learn everything online. But the teachers handled it well and took it easy on us at the beginning."