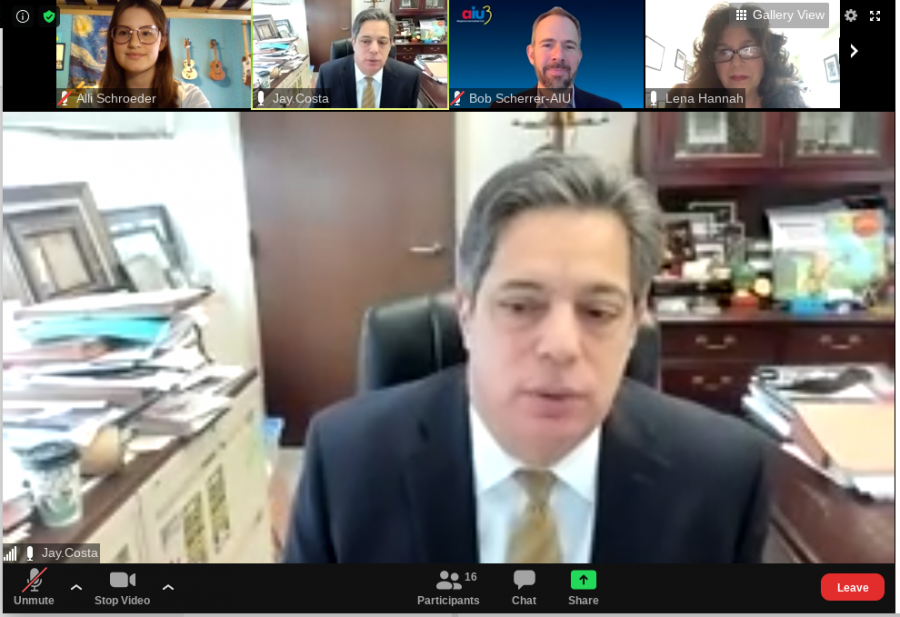 Alli Schroeder
More must be done to provide technology and internet access for all families, state Sen. Jay Costa (D) said Thursday in a forum with high school students.
Students from around the region participated in the online forum, which was organized by the Pennsylvania School Boards Association.
With many families struggling financially, Costa said, some students are without the proper tools needed to succeed in the virtual classroom.
"We need to do better with providing schools with the technology they need," Costa said. "Some families simply don't have the ability to afford such devices and connectivity."
States can't address connectivity inequality alone, he said. 
"We need to look to our communication providers to be part of a solution well," he said. "We need public-private partnerships to ensure everyone has access to what they need, regardless of income levels, regardless of where one lives."
Despite the immediate needs to improve online access for virtual learning, Costa wants students to return to school when it is deemed safe enough. He noted that virtual learning does not offer the same quality of learning that in-person instruction provides, although integrating technology into education is not going away.  
"I have a concern, to be honest with you, with distance learning. I don't think you can replace hands-on learning," he said. "But whether we like it or not, (technology) is going to be part of our educational landscape going forward, and we need to do a better job of funding and recognizing that this is a thing of the future"
Costa said he was hopeful that the new Biden administration will provide more resources for education. 
"I think there will be an investment in the technology as it relates to educating students," Costa said.
Costa also said there should be a bigger focus by the Biden administration on funding and support for special education services.
"We've been remiss in providing enough resources in that area, both at the state and federal level, and I think we need to be able to figure that piece out," Costa said. 
Costa also said that with families struggling financially during the COVID-19 pandemic, the cost of college needs to be addressed. The state needs to increase funding for state schools and community colleges.
"As we go forward, we are looking to develop ways in which we can make higher education certainly more affordable," he said. "There have been proposals like what other states have done, which is to find a revenue stream that would at a minimum provide free community college."
"We need to make certain that we are not doing things that are going to burden people for many, many years, especially for families right now," he said.