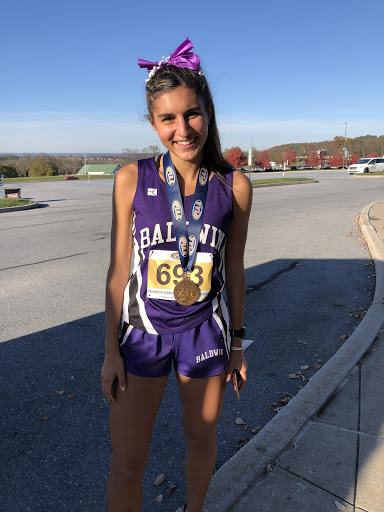 Photo courtesy Gina Bolla
Senior Gina Bolla made history on Saturday by becoming the first Baldwin girls cross country runner in more than 30 years to earn a state medal. 
Placing in the top 25 and earning a medal at states has been one of Bolla's goals since running in last year's state meet. Bolla finished at exactly 20 minutes this year, dropping her time three seconds from last year and earning a 20th place finish.
"I'm very happy with my time this year, considering the warm conditions at the race," Bolla said.
Bolla felt great for the entirety of the race but started to feel the impact of the heat during the last half mile.
"I kept reminding myself to have mind over matter, which helped me a lot mentally," Bolla said. "It was harder for me to sprint all out at the end of this race, which is something I want to work on in the future."
Knowing the course from previous years also gave Bolla an advantage over some of the other runners, she said. 
Bolla was accompanied by coaches Rich Wright and Amanda Setree, as well as two freshmen runners, Eliza Swanson and MacKenzie Hirt.
"I think what motivated me the most is that my coaches never gave up on me," Bolla said. "When I was a sophomore, I wanted to give up because I missed qualifying for the 3200 in the WPIAL championship by one spot."
For Swanson, Bolla serves as a role model.
"She always gives 100 percent effort at both practices and meets," Swanson said. "Gina personally inspires me because she has worked her way up and has never given up."
Bolla was the only Baldwin runner to qualify for states this year because the field was limited to the top 10 finishers at WPIALs due to COVID-19 restrictions. In a normal year, the top 25 WPIAL finishers go to states, which would have meant that seniors Lena Barakat and Zach Wyse would have qualified as well.
Bolla is planning on running track this spring, with a goal of winning WPIAL medals, as she has in previous seasons. 
"My goals for this track season are to win WPIAL medals in the 4×800 relay, 1600, and 3200," Bolla said. "I also want to place in the top four, because those individuals advance to the state meet."
During cross country, she used the uncertainty of a season taking place during the pandemic as motivation.
"I tried to run every race like it was the last time I was going to run because I did not know if cross country was going to get shut down due to COVID," she said.
As her senior season has wrapped up, Bolla reflected on her high school career.
"I am going to miss the team, the coaches, and just seeing my friends in school every day," she said. "I am satisfied that I won a medal, but I am not satisfied with the way I ran, because there is so much I have to work on. There is always something — whether it is strength or speed — that needs improvement. I will never be satisfied because I will always find a way to get better."