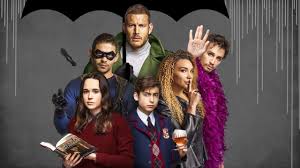 Image from Internet
A recent trend in modern TV has been to make original comic book series into TV shows. These comic adaptations have proved successful with hits such as The Walking Dead and Arrow. 
Netflix's take on the comic series The Umbrella Academy can be seen as a force to reckon with in comparison to other comic book-based shows. 
The show focuses on six adopted siblings who make up The Umbrella Academy, a school and home for the gifted. The six adopted children were among a group all born on the same day by mothers who had shown no signs of pregnancy. 
These children are special not only for their unexplainable births but for their individual superpowers, which fascinates the mysterious entrepreneur Reginald Hargreeves. He adopts seven of the 43 children and creates his crime-fighting institution, The Umbrella Academy.
One of those seven children, Vanya Hargreeves, turns out to be ordinary amidst her skilled siblings. While her siblings are on missions, Vanya lives a normal life and is excluded from the group. 
Instead of having traditional lives as most young kids do, the six siblings fight crime all over the world with their special abilities, until they are old enough to start their own lives away from the academy.
The show's first episode resumes years later, when the children are grown up and have gone their separate ways. Soon after they are called together to attend their adopted father's funeral. Back at the academy, they learn about the impending apocalypse, and how they are the only ones able to prevent it.
The siblings set aside their differences and unite under their father's death to save the world, all while avoiding deadly assassins and a psychotic serial killer intent on sending the siblings to their deaths.
Because of its huge success, The Umbrella Academy has been renewed for a second season. Luckily for fans, the coronavirus did not affect season two's release date, which is scheduled for July 31.