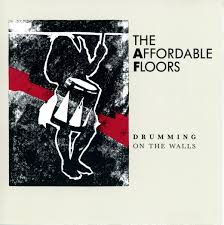 Internet image
Anyone looking to dip into the '80s indie rock scene should check out the Pittsburgh-based band The Affordable Floors.
The band released four albums before their 1995 breakup, and each one had a signature mid-'80s sound. 
Songs like "Wedding Ring" and "Blackout" are layered with classic synth and unique guitar parts, which combine to create a truly special style.
Not all of The Affordable Floors' tracks are hits, though, as most of their album Drumming On The Walls is best left in the '80s. Many of the songs are decidedly dated, and don't translate into today's music standards.
Listeners have to be looking for a true '80s music experience if they want to try listening to The Affordable Floors.
However, there's a certain charm that comes with such an underground indie band, particularly one that started right here in Pittsburgh.