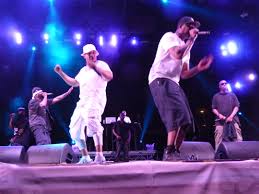 Wikimedia Commons
Tired of your Spotify playlists? The Purbalite is here to help, with the new Essential Listening feature.
Ever since the Sugar Hill Gang released "Rapper's Delight" in 1979, New York has been synonymous with hip hop. With that being said, the city's grasp on the genre was not always firm. 
During the late '80s and early '90s, acts like Ice-T, N.W.A, Cypress Hill, and Snoop Doggy Dogg effectively shifted momentum towards the West Coast, and New York became irrelevant in the rap game. Then in 1993, a rap crew rose from the slums of Shaolin, and the forgotten borough of Staten Island would become New York's most unlikely hero, as the Wu-Tang Clan became one of the most influential hip hop acts of all time.
The Wu-Tang Clan and its debut album, Enter the Wu-Tang (36 Chambers), would effectively bring rap's focal point back to its roots with the creation of an instant classic. For the first time in rap music, less became more, as the RZA's grimey, dark, minimalistic production style turned the underground into the mainstream. No need for synthesizers and funkadelic samples when you have a paint bucket and a snare drum in the studio — not to mention some Kung-Fu movies.
The wide array of characters in the group is something that still makes them so special. They all could easily have been leaders in their own groups, but it's incredible to hear them trade bars with each other. 
"Protect Ya Neck" was the first track recorded by the group, and effectively shows off each member's talents and style. The RZA, the GZA, ODB, Inspectah Deck, Raekwon the Chef, U-GOD, Ghostface Killah, and Method Man each bring something different to the music. The GZA's calm approach compliments the aggressive raw rap of RZA. Ghost's hardcore street mentality works well with ODB's ability to make it fun and light.
Needless to say this is an album that every rap fan should absolutely listen to. It is the blueprint for so much great hip hop that was to follow.