Column: Great soundtracks push films to a new level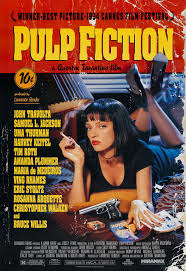 Songs often can embed themselves into our brains. Film directors have taken notice of this, and as a result, some of the best-known movies owe at least some of their popularity to their soundtracks. 
Music is different from film, in that it speaks to its audience on a deeper emotional level. Although film also has the ability to create connections with its audience, it is much more sporadic. 
Directors like Quentin Tarantino and Ryan Coogler recognize this, and have taken steps to ensure that their movies come out on top. 
Tarantino's most popular works, Pulp Fiction and the Kill Bill saga, have soundtracks that engage the audience in ways that most films don't. 
Pulp Fiction's soundtrack differentiates itself from other movies at the time, due to its representation of the '90s era. Specific songs correspond with scenes, captivating audiences and heightening emotions. 
The Kill Bill soundtracks utilize the same techniques, making the action seem more intense and giving the audience a rush of adrenaline. 
These efforts make Tarantino's handpicked soundtracks seem like his very own mixtapes. 
More recently, Coogler's movie Black Panther was applauded for its incorporation of African and African-American beats in the movie's popular soundtrack as much as the movie was praised for its representation of African culture as a whole. 
Rapper Kendrick Lamar headed the soundtrack. Popular artists like SZA and the Weeknd made appearances, as did four South African musicians — Babes Wodumo, Sjava, Yugen Blakrok, and Saudi. 
Because of the soundtrack's energy, the movie will always provide viewers with a sense of power and excitement that might not have been as strong if not for the music. 
Movies like these will always be more memorable and well liked, because their soundtrack can accentuate the film's overall tone and deeper meanings, while engaging the audience.