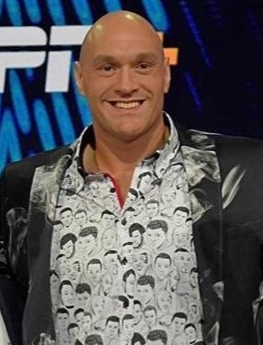 Photo via Wikipedia Commons
The National Alliance on Mental Illness has reported that 19.1 percent of adults in the United States have experienced some form of mental illness. These include depression, anxiety, and substance abuse among others. 
Mental health, for a long time, has been something that is not talked about much in the public eye, despite the fact that everyone knows someone who has dealt with some kind of mental health disorder. 
In sports there are several outspoken athletes who have opened up about their own personal battles. NBA All-Star Kevin Love wrote a piece in The Player's Tribune about his experience with depression and anxiety, following a panic attack he had while playing against the Atlanta Hawks in 2018. NFL Pro Bowl wide receiver Allen Robinson was diagnosed with a bipolar disorder and felt the need to try to end the stigma surrounding mental disorders in sports. 
Heavyweight champion boxer Tyson Fury over the past couple of years has been very open about his battles with depression and addiction. Fury is one of the most accomplished and exciting boxers in recent history, but his story of faith and redemption will sit atop any of his accomplishments inside the ring.
After being born premature and fitting into the palms of his father's hands, Tyson Fury seemed destined to be a fighter. Naming his son after the heavyweight champion of the day, Mike Tyson, Fury's father has said he knew his newborn baby was going to accomplish great things one day. 
In 2008, Fury made his professional debut, beating Bela Gyongyosi within the first round. By 2013 Fury finally had a fight in the United States and was now recognized as one of the top heavyweights worldwide. 
Following a defeat of Christian Hammer, Fury called out longtime champion Wladmir Klitschko, wanting a long overdue title fight. Klitschko had defended his heavyweight title 25 times, and was a huge favorite over the British boxer. On Nov. 28, 2015, Tyson Fury shocked the world and became the world heavyweight champion.
For those on the outside looking in, it seemed Fury had it all. He was a highly paid professional athlete, living out his childhood dream, and poised to start a long dominant title reign. 
Of course, that would never happen. Just a week after his championship victory, Fury was stripped of one of his titles due to a clause in his contract. Following that, everything spiraled out of control.
After scheduling a rematch with Klitschko, Fury suffered an ankle injury that further postponed a fight that would never occur. 
For 18 months after his rise to the top as heavyweight champion, Tyson Fury battled depression, anxiety, and substance abuse. 
An investigation took place after the boxer tested positive for cocaine, but everything Fury was experiencing internally was even more horrific. Fury has said he would wake up in the morning wishing to die, and disappointed that he hadn't in his sleep. 
He was partying and drinking, and he once contemplated suicide. One night while driving his Lamborghini, Fury was going to kill himself. In the last minutes before what would've been a fatal car crash, Fury had an epiphany and changed his mind. 
Following that experience, Fury changed his life around and started taking small steps to regain his heavyweight crown.
Fury credits his recovery not to taking prescription pills or seeing psychiatrists, but rather to a rediscovery of his faith in Jesus Christ, and believing that God would make him better.
After more than two years away from fighting, Fury stepped back into the ring and continued his winning ways. During this second chapter of his career, Fury engaged in one of the greatest boxing matches ever against Deontay Wilder, when they fought for the championship in 2018. The fight would end in a controversial draw, with many thinking Fury was the rightful winner.
Following this were several more strong victories, but there was still unfinished business with Wilder. 
Finally the rematch was set, and on Feb. 22, Tyson Fury once again had his toughest opponent in front of him in Deontay Wilder. 
Through years of preparation to return to the sport at a high level, Fury endured the storm and was ever confident that he would finish what he started against Wilder. Fury won the contest via TKO in the seventh round, and was once again the heavyweight champion of the world, completing one of the greatest comebacks in sports history.
But the Tyson Fury story is one that will transcend past sports. 
To put it simply, this is bigger than boxing. Fury has embraced his bigger purpose, as someone who can spread the word of the debilitating mental illness can have on someone, but also someone who can be an example of making it out of the valley.
Fury's message is that people should be thankful for what they have, and appreciate those around them, and love life. People all around the world will continue to struggle from mental health disorders — that's never going to change. But stories like those of Tyson Fury will serve as a reminder that no one is alone in this fight against silent killers like anxiety and depression.