10 fighters defined this decade in boxing, MMA
December 20, 2019
Manny Pacquiao: Champion of the people
Photo via Forbes
Manny Pacquiao has had a long extensive career. Pacquiao has won 12 major world titles and is the only boxer in history to win a championship in eight different weight divisions. Throughout the 2010s Pacquiao fought 16 times, in multiple title bouts, while also serving as a politician in the Philippines.
Demetrious Johnson: "Mighty Mouse" among giants
Demetrious Johnson is possibly the most underrated UFC champion of all time. In the fight business, the little guys in the lighter weight classes don't attract as much attention as heavyweights. But make no mistake: "Mighty Mouse" was dominant. Johnson holds the record for most title defenses, defending his flyweight title 11 times. Johnson's contract rights were traded to One Championship in Singapore, where he won another title.
Deontay Wilder: A different kind of monster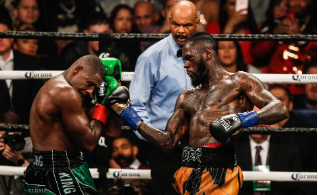 Photo via Forbes
The conversation about hardest hitters in boxing usually focuses on Mike Tyson or George Foreman. They are legends of the sport, but Deontay Wilder may be the greatest knockout artist of all time. With 41 knockouts in a 43-fight career, Wilder is an unstoppable machine. Wilder became the WBC heavyweight champion in 2015, and has defended it 10 times since then. Wilder is easily one of the most exciting fighters not just in the past decade but in the history of boxing.
Ronda Rousey: The pioneer of women's MMA
The story of mixed martial arts would be incomplete without mentioning the pioneering Ronda Rousey. Rousey had a meteoric and dominant rise to greatness, and single-handedly changed the sport. After a dominant run in Strikeforce, Rousey essentially forced Dana White to integrate women's divisions to the UFC after he had defiantly said he never would. There may have been more successful female fighters who followed, but none of them made the impact that Rousey did in women's MMA.
Tyson Fury: Bigger than boxing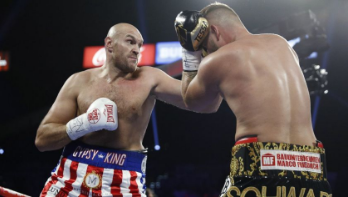 Photo via LA Times
Sometimes in sports, there are more important things than winning. Tyson Fury is a unique specimen of a fighter, standing at 6'9" with an 85-inch reach. In 2015 Fury won the unified heavyweight titles after defeating long-reigning champion Wladmir Klitischko. While that is impressive, his second act has been far more impressive. Fury fell on hard times, suffering from mental health issues and addiction, and he was stripped of his titles. After two years of inactivity, Fury once again challenged for the heavyweight title, this time against Deontay Wilder. The fight ended in a controversial draw and Wilder retained the title. But Fury accomplished something that very few ever have against Wilder, and he kicked off one of the greatest comebacks in combat sports.
Jon Jones: "Bones" Knows, and "Bones" Owns
What can be said about Jon Jones that hasn't already been said? Jones is a once-in-a generation fighter, and pound-for-pound one of the greatest ever. In 2011 Jones became, at age 23, the youngest UFC champion following his knockout of Shogun Rua. Jones has seemingly no holes in his game, as he is a strong wrestler, striker, and kickboxer. In fact the only person who has defeated Jones is himself. With various legal troubles and several violations of USADA's anti-doping policy, his legacy has become cloudy. But Jon "Bones" Jones is one of the most dominant fighters ever in an always competitive 205-pound division.
Amanda Nunes: The GOAT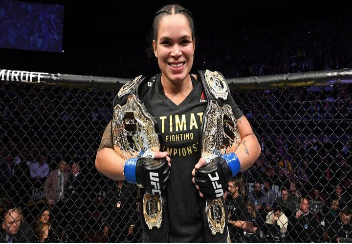 Photo via ESPN
Naming someone the greatest of all time in anything is always hard and controversial, but it'd be difficult to argue against Amanda Nunes being the greatest female fighter in UFC history. Nunes has been a step ahead of her competition during her entire career. She is also the first female fighter in the UFC to hold two titles simultaneously. On that road to gold she beat Valentina Shevchenko, Miesha Tate, Ronda Rousey, Cris Cyborg, Holly Holm, and Germaine de Randamie. All of these women were seemingly unstoppable, but Nunes stands head and shoulders above them all.
Michael Bisping: "The Count" fulfills his destiny
Photo via Rolling Stone
Michael "The Count" Bisping had a storied MMA career. As Great Britain's biggest star in the sport, so many fans had waited so long for Bisping to reach the top. For him, 2016 was a career year. Bisping started by defeating a legend of the sport, Anderson Silva, in dramatic fashion. Then on two weeks' notice, Bisping finally got the title shot he had wanted for so long, against rival Luke Rockhold. Few expected Bisping to win, especially on short notice, but before the bell could ring on the first round Michael Bisping fulfilled his destiny and became the UFC's middleweight champion. Bisping defended his title against Dan Henderson, and was named to the UFC Hall of Fame in 2019.
Floyd Mayweather Jr.: Perfectly perfect
Floyd Mayweather is one of the greatest boxers ever, and is in his own division of greatness because of his impressive 50-0 record. Mayweather has effectively cleaned out the welterweight division time and time again. Perhaps the most impressive thing is that he continues to fight. Mayweather has accumulated enough money to retire multiple times, but he continues to put on strong performances, even against the toughest of opponents, like Manny Pacquiao. According to Mayweather, God only made one thing perfect, and that would be his boxing record.
Conor McGregor: "We didn't come to take part. We came to take over."
"The Notorious" Conor McGregor could go down as the most polarizing athlete of all time. The way McGregor would dismantle other fighters during press conferences and then follow up his own predictions in the octagon was otherworldly. McGregor is the biggest star in MMA, and it's not even close. The kind of spotlight he was able to put on the sport was incredible, and it will forever be different because of him. McGregor became the first fighter in UFC history to hold two titles simultaneously, and is still easily the biggest star in recent combat sports history. His trash talking was legendary, his performances were mystic and dominant, and Conor McGregor will forever be notorious.