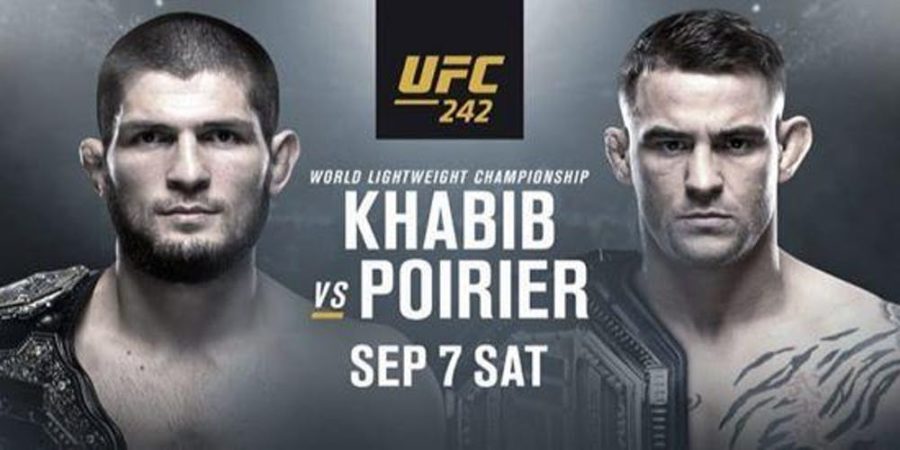 Photo via Eventbrite
UFC 242 has one of the most compelling lightweight title fights in recent history. 
After realizing the biggest win of his career in October of last year against Conor McGregor, Khabib Nurmagomedov would serve a nine-month suspension for engaging in a brawl, following his dominant performance. During the suspension, the UFC would hold an interim title bout between featherweight champion Max Holloway and lightweight contender Dustin Poirier. Upon going the distance with Holloway, Poirier would be named the interim lightweight champion.
Now on Saturday in Abu Dhabi, the two champions will have a chance to unify their belts in one of the most anticipated lightweight championships of all time.
The tale of the tape for this fight could not be more interesting. Khabib is one of the most dominant fighters in the history of mixed-martial arts; with his punishing style of sambo wrestling, he has accumulated an amazing 27-0 record. 
Poirier had to wait his turn to get his shot at becoming a champion. Poirier has had the second-most fights in the UFC without being granted a title shot, right behind former middleweight champion Michael Bisping. However, Poirier put the world on notice with his dominant performance over Holloway in April.
From a matchup standpoint, it is hard not to notice Khabib's reign of dominance over the sport. No fighter before him has ever won like this before. When an opponent of Khabib's enters the octagon, he knows exactly what to expect: constant pressure, with amazing finishing abilities and an uncanny ability to break an opponent's will.
Poirier is no slouch either. Despite being an underdog, he does possess tremendous skill and power. Poirier has shown that he can be an efficient, well-rounded fighter, but of course he is most well known for his impressive striking, great footwork, and unmatched cardio. 
UFC 242 will be a title fight fans across the world will not soon forget. Khabib Nurmagomedov is a transcendent champion, fighting for the first time on home turf as the Russian eagle tries to defend his title and his perfect record. Dustin Poirier comes in an underdog with a chip on his shoulder after rising up the ranks and waiting for his time to shine. One thing remains certain: Two champions will enter, but only one can leave as the undisputed lightweight champion of the world.