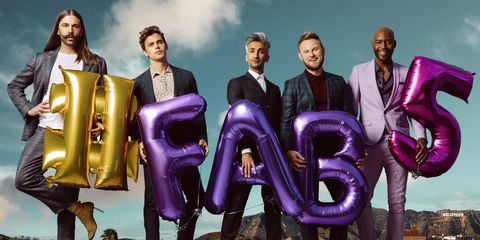 Photo via Elle
This season of Queer Eye, a main focus has been diversifying the participants on the show, and it's taken the show from good to great.

The original show, Queer Eye for the Straight Guy, focused on just that, and for the most part, so did Queer Eye.

This season, Queer Eye made an effort to expand its horizons, which makes sense because it's not just mediocre straight white guys who deserve the Queer Eye magic. The Fab Five even took on helping two sisters in one week.

Plus, even though the show has good vibes to it, after its third season, it needed something new. Diversity provided that this season, but now the challenge for the possible next season will be to find another wow-factor.

Queer Eye is an excellent show with a great message behind it, but there's no suspense to it. To keep an audience engaged, the creators need to think of a twist for the upcoming season or they'll be in trouble.

To be frank, the show is getting predictable. Karamo makes the guest cry, Bobby rebuilds their entire house, Antoni makes them a snack, Tan takes them shopping, and Jonathan somehow manages to make them look like a new person with a haircut.

With such a long success streak, Queer Eye should make more of an effort to travel across the country and maybe even internationally to help people. The Deep South narrative, although comfortable, is getting repetitive.

No matter what Queer Eye has in store for the future, it needs to be big to sustain an audience. With all of the unexpected Netflix cuts recently, who knows if it's next on the chopping block?