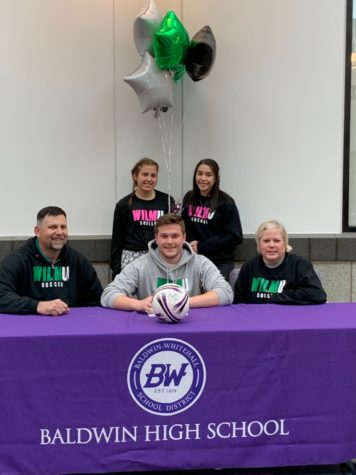 Seniors Noah Bartic and Jackson Brandewene have committed to continue their athletic careers in college.
Bartic committed to play football at Thiel College, which was not his original plan, he said.
"I was planning on going directly into the workforce, but Thiel's coach saw my Hudl (highlight) footage and offered me a spot," Bartic said.
Bartic also said he had two paths to go down and had to make a decision.
"Of course I was nervous because I could be going down the wrong path, but I think I made the right choice," Bartic said.
Bartic mainly credits this opportunity to his work ethic and his desire to get better.
"All I did was work my hardest one day and work harder than that the next day," Bartic said.
Brandwene committed to play soccer at Wilmington University in Delaware.
"I'm very excited for this opportunity," Brandwene said. "Their soccer teams are always nationally ranked."
Brandwene isn't worried about living so far from home.
"I have family around that area, but I'm going to miss my dogs at home," Brandwene said.
Brandwene will be playing at the Division II level, and he's ready to make the jump.
"I think I have a good shot at starting," Brandwene said. "They've had some great goalies in the past."