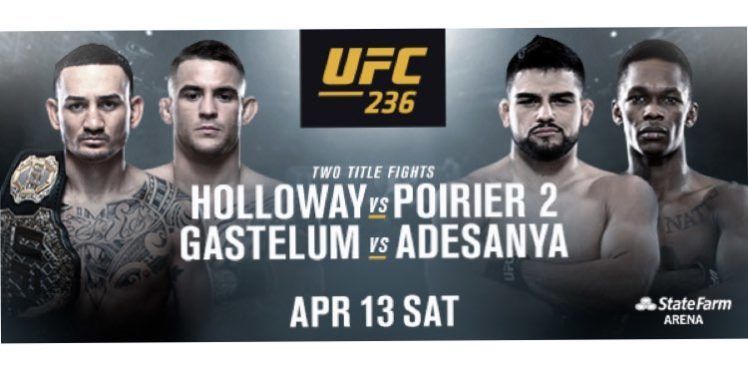 Photo Via Sportskeeda
With the suspension of the UFC's lightweight champion, Khabib Nurmagomedov, and the injury to middleweight champion Robert Whittaker, the two weight classes are in need of an interim champion to keep fights flowing and the league interesting. What is the league's answer to this? Make history by hosting two interim championship fights on the same card for UFC 236.
In the middleweight title bout, Kelvin Gastelum will be taking on "the last stylebender," Israel Adesanya.
Gastelum was of course set to fight for the middleweight championship at UFC 234, only for champion Robert Whittaker to pull out just a day before the event because of a hernia. Gastelum would be sidelined that night, only to watch the rising star Adesanya win fight of the night honors, after defeating legend of the sport Anderson Silva.
For the weight class they're in, Adesanya has a huge height advantage, standing 6'4" over the 5'9" Gastelum. However, Gastelum has more experience fighting in the UFC. Adesanya has a 16-0 record but only has five UFC fights under his belt. Experience could play a role in this bout, but Adesanya is just a perfectly woven machine of kickboxing, striking, and Muay Thai.
In the interim lightweight title fight, fans will get to see Dustin Poirier take on featherweight champion Max Holloway in a rematch seven years in the making.
When Holloway was a young fighter out of Hawaii, his eyes were wide open for the world that is the UFC. In his first fight in the league, he would lose to Poirier in the first round. Since then Holloway would become one of the best pound-for-pound fighters in the world, not losing a fight since 2014, and he is arguably the greatest featherweight of all time.
Poirier has never competed for a world title before, but that should only affect him if the fight goes the distance, as he still has notable victories over Anthony Pettis, Eddie Alvarez, and of course Holloway. Poirier has always shown a great combination of striking and Brazilian Jiu- Jitsu, with nearly 80 percent of his professional fights resulting in an early stoppage.
Both of these fights should be highly competitive and can't-miss viewing for any MMA fan. The winners of these fights will go on to challenge for the official title when both Khabib and Whittaker are able to come back. That is assuming that Khabib doesn't start another riot and Whittaker doesn't suffer a hernia at home before a title fight.