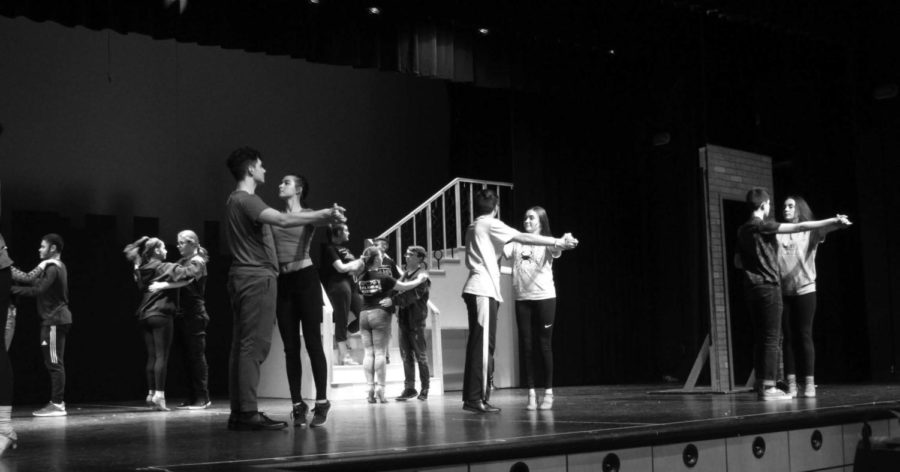 Elizabeth Solendy
While some theatergoers look at awards like the Gene Kellys to gauge a musical's success, the prestigious Baldwin musical theater program measures success differently.
Although Baldwin has received its fair share of Kelly awards in past years, cast members look at the experience of performing as their primary motivator.
"Musical has always been a way to express myself, because I used to be shy and it was a way to do what I love to do," senior Morgan Traud said.
Senior Alexa Trimbur has had a similar experience.
"I started doing musical 12 years ago, so it's not just about the awards to me. It broke me out of my shell because I never talked and it got me out of my comfort zone. It helps me be outgoing," Trimbur said.
This year's musical, Mame, had been quite famous in the 1960s, making it something of a first under Director Jason Coll, who has frequently selected productions that had not been such box-office hits. But the musical's fame came decades ago, which means it initially was an unknown work for many in the cast.
"We have yet to do a musical which I have heard of, which is cool. It's fun to do shows you know, but when you do a show not known, it gives you a new appreciation," Trimbur said.
Traud said Coll has been able to bring these lesser-known musicals to everybody's attention.
"It has really helped me expand my horizon to see how many shows I don't know. It's not more fun or less fun when we do a different musical. It involves a little more research because we don't know the references, so we have to become familiar," Traud said.
For Coll, this unique musical choice is deeper than just being a "different" kind of show.
"It's a show I've done before, and it's one that I love," Coll said. "It delivers a big message of love and acceptance. It also has great music and is very funny. I feel that the cast I have chosen will do a great job."
The story comes from the book Auntie Mame and it is based in the Great Depression. Similar to last year's Honeymoon in Vegas, it is a musical comedy.
The story follows the wealthy eccentric Mame Dennis, whose life is turned upside down when her nephew, Patrick Dennis, comes to live with her, which leads to a series of adventures.
The cast is confident that Coll once again will craft a memorable production.
"Jason is awesome. The way he creates his characters is great, and he changes the way we think about theater in general," Traud said.
Mame opened April 10 and will be continue through April 13 in the auditorium.