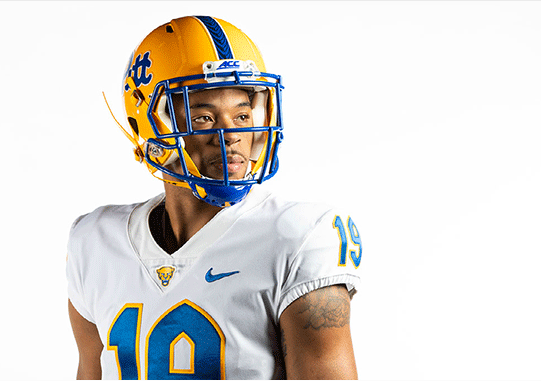 Photo via Pitt Athletics
Dan Marino and Tony Dorsett are regarded as some of the greatest players to ever don a Pitt jersey. Their years are remembered for tremendous success, including a Heisman Trophy and a national championship for Dorsett.
During their college careers, they wore Pitt's royal blue and yellow uniforms, more recently known as the retro jerseys.
On Sunday, Pitt athletics revealed the return of that look with a modern take on the royal blue and yellow uniforms.
The university also unveiled new secondary logos.
The most notable logo is the Panther head that resembles several statues on campus. This logo looks fairly similar to those of FIU and Georgie St., but the Panthers' own take and color scheme set it apart from the other college logos.
The jersey numbers are another eye-catching aspect of the new uniforms. The font looks interesting and it might take fans some time to get used to them, but they were inspired by the architecture of the Cathedral of Learning.
The university also revealed a scripted Panthers logo similar to their Pitt script.
As the university says farewell to the navy blue and gold attire, athletic department officials hope to reinvigorate the dominant tradition that the Panthers once had.
Pitt athletic teams have been on the rise recently in the ACC, with the football team clinching its first-ever division title and Coach Jeff Capel creating a new atmosphere for the basketball program. Also, Pitt wrestling and volleyball have put up impressive seasons over the past few years.
With the new sharp uniforms and attire unveiled, the Panthers are set for a new era of Pitt athletics and dominance.