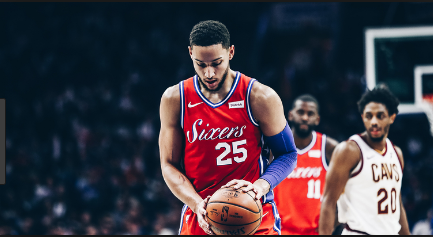 Photo via NBA.com
In 2013 the Philadelphia 76ers hired a new head coach, Brett Brown. Fans were excited to have a new coach in town who previously had worked with the San Antonio Spurs, and believed Brown could bring a winning culture to Philadelphia. Instead what happened was losing season after losing season, with the team tallying just 10 wins in 2015.
Then the pieces started to come together and all-star caliber players were being put in place for a playoff team, with the team losing in the Eastern Conference semifinals last year. This year, however, it looks like "the process" might finally pay off for the 76ers.
For those who don't know, Philadelphia's process has been basically just calculated losing and tanking, in order to accumulate high draft picks. The Rookie of the Year winner for 2017, Ben Simmons, was drafted first overall in 2016, and all-star center Joel Embiid would be picked third overall in 2014.
The team would also acquire key free agents like JJ Reddick, and earlier in the season made a trade for a great two-way player in Jimmy Butler.
Another important factor in the Sixers winning the East is the lack of LeBron James playing for Cleveland or Miami. Philly will certainly have to face strong competition through the playoffs, but there isn't a force quite like LeBron to stand in their way.
Even if fans just look at the team on paper, the odds shake out to be pretty decent. The Sixers have a Top 10 defense and a Top 10 offense and have been very effective at disrupting other top offenses like the Rockets and the Warriors. When they play a team like the Pistons in the playoffs, it should be no problem to simply outpace a team with already limited offense.
This is a good team in a competitive but not strong Eastern Conference. Philadelphia has not been this primed to go to the finals since 2001, when they had league MVP Allen Iverson. Now obviously not every player can be Allen Iverson, but with a big three of Embiid, Simmons, and Butler, the 76ers have debatably an even better core than the team in 2001.
It might have been a long road to get here, but the city of Philadelphia will be able to say "trust the process" affirmatively as the 76ers will be crowned Eastern Conference Champions at the end of the season.