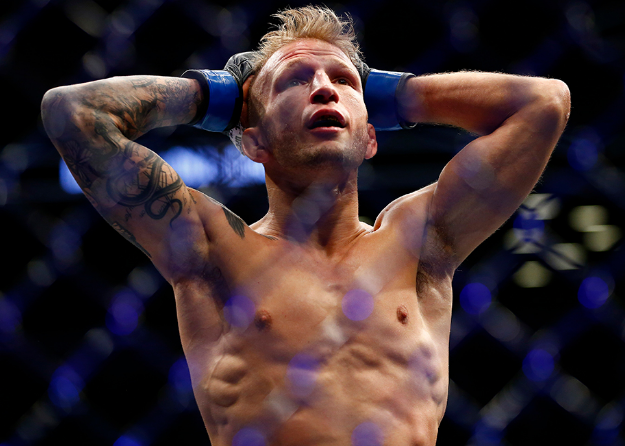 Photo via MMA Junkie
So far this has been a hard year for UFC bantamweight champion TJ Dillashaw.
In the first-ever UFC Fight Night broadcast on ESPN, Dillashaw would lose in a controversial early stoppage against flyweight champion and Olympic gold medalist Henry Cejudo. Then it was revealed early Wednesday morning that Dillashaw will be "voluntarily" relinquishing his title after being informed that he failed a drug test conducted by the New York State Athletic Commision and the U.S Anti-Doping Agency.
Dillashaw is expected to be suspended for one year.
Dillashaw has been open on his Twitter page about the unfortunate turn of events, which will lead to investigations by the USADA and the state athletic commission. At this point in time it is unknown what the substance was.
Fighters in the past have been flagged for things like estrogen blockers, medical marijuana, and several forms of privately distributed stimulants. The unfortunate thing is that most of these are not viewed as performance-enhancing drugs, but they are still banned by USADA with little to no wiggle room.
Dillashaw was initially suspended one year by the state athletic commission, but it is  quite possible that USADA could issue an even longer suspension after further investigation. Speculation has arisen that Dillashaw more than likely took something to help with the weight cut, as he had to lose 29 pounds in 12 weeks, which is not unheard of in MMA but still very difficult and dangerous.
Moving forward, the UFC bantamweight division is set to be shaken up. With a now-vacant title, several contenders could be competing for the belt soon. The original plan was to have a rematch between Dillashaw and Cejudo at 135 pounds. Now the No. 1 contender, Marlon Moraes, has come forward, saying he's ready for the title fight. Many are still speculating the Cejudo could move up a weight class to try and attain the honor of becoming a double champ, but UFC President Dana White has not made any official statements on the matter.
Dillashaw is a great fighter, but unfortunately sometimes the greats are the ones who end up being made an example of. His suspension is going to shake up the division and the league as a whole. But since he is such a great fighter, he will not soon be forgotten, and is likely to have a great rebound, assuming he stays in his lane.