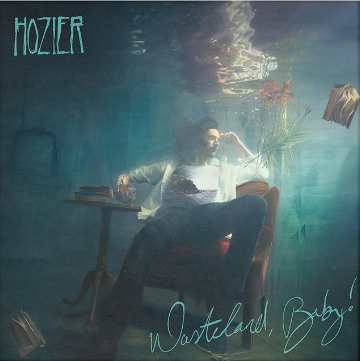 Photo via Newbury
On Hozier's sophomore album, he brings out a side of his music where each song is more electric than the last. Wasteland, Baby! arrives five years after his self-titled album, which channeled a darker, more solemn sound that earned him his first No. 1 spot.
This album has a folk rock sound with undertones of soul. Themes from the album could be described as the three S's: sin, seduction, and salvation.
Another theme fans might be surprised to find on the record is political awareness. Songs like "Nina Cried Power," which name-drops artists such as John Lennon and Patti Smith, and "Dinner & Diatribes" highlight the political unrest of recent years.
The title track examines love as being apocalyptic, but it also has an underlying message of the end of the world. The dreary theme of love conquering all follows throughout the record, displayed through songs such as "No Plan" and "As It Was."
Overall, the mission statement of the album is to care about the world and its people, even though everything could fall apart. Throughout the album Hozier calls his fans to action with a sense of urgency.
It seems this time around, Hozier doesn't want to take people to church. He wants to take them to the future.