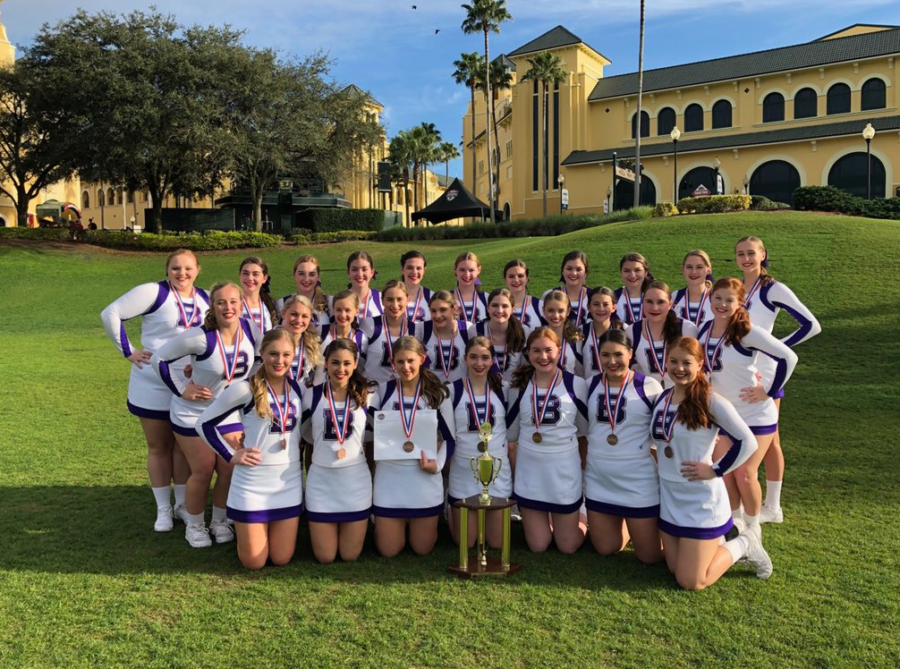 Erin Fader
The Baldwin competitive cheerleading mat team placed third in the nation at Disney over the weekend, the highest-ever finish for any Baldwin cheer team.
Baldwin's other cheer team, the game day team, meanwhile, made it to the semi-finals out of a big field of 88 teams.
As for the mat team, the third-place finish beat out Baldwin's previous best finish, which was when the game day team placed seventh in 2016.
"We definitely surprised ourselves this weekend," sophomore Taylor Mincin said.
Both teams had zero point deductions in their routines. In the mat competition, Baldwin was the only school in the division to achieve this.
Senior Erin Winkowski said she was thrilled with the results.
"As a senior, I'm so excited that my last year will have been our best year in competition ever," Winkowski said. "Not only are we doing well in that area, but we're also making a lot of memories together as a team. There's a picture I have of us all in a pyramid, genuinely smiling and having a good time, and it's my favorite picture of all of us."
Although both teams did very well overall, there were struggles that they had to overcome. One of these challenges, Winkowski said, was the difference between the routine this year and routines from previous years.
"Low-to-high full arounds were added, which was a difficult move to overcome because it's different than the routines that we've done in the past," Winkowski said.
She also said the newest team members needed some more time during the season to adjust.
"Lot of freshmen and sophomores joined for the first time, and they needed some time to build their confidence up," Winkowski said.
Mincin said the challenges of the season were all worth it.
"It was challenging, but I feel like the team really inspired one another to keep going," Mincin said.  
The cheerleaders were particularly proud because the mat competition is so challenging. It requires the team to perform more flips and  more stunting.
"It feels really good because we've worked hard all year. It's nice to get recognized," freshman Elianna Sinkule said.
The strong showing makes the team optimistic about their chances of doing well in future competitions.
"We can go up from here," Sinkule said.
Sinkule said the girls were inspired to win by captain Paige Ernst, who brought the girls' spirits up and encouraged them to do their best.
"She kept the team from feeling down and brought personality to the team," Sinkule said.