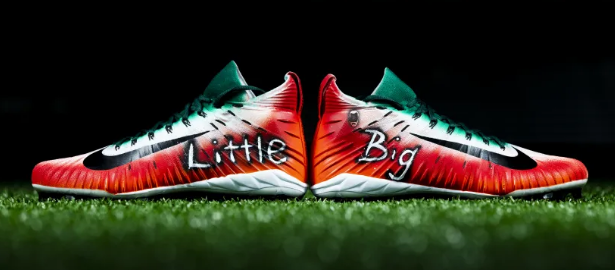 Photo from NFL
NFL players like Antonio Brown, Von Miller, and Ezekiel Elliott tend to play with a lot of emotion and passion for the game. Some would say these and many other players play with their hearts on their sleeves. However, during the weeks 13-16, NFL players will be able to play with their hearts on their feet as the league has allowed them to wear customized cleats representing charities of their choosing.
The "My Cause My Cleats" player initiative is in its third year, and each year it has gotten larger and more widely publicised. This year more than 800 players will be able to showcase their custom cleats to raise awareness for causes from youth development, cancer research, disability support services, and many more.
While players came away with eye-catching cleats that are sure to be the center of conversation, some of the stories behind the cleat designs and charity choices are awe-inspiring.
Dallas Cowboys quarterback Dak Prescott, teamed up with Adidas to honor his late mother, Peggy, who died of colon cancer in 2013. He hopes to continue raising awareness for cancer sufferers through his Faith, Fight, Finish Foundation.
Several players have made cleats to honor the men and women who make up the armed forces and Cardinals wide receiver Larry Fitzgerald took an interesting route when creating his custom cleats. Fitzgerald has chosen to honor two Arizona servicemen, one being Cardinals legend Pat Tillman, who decided to give up on his NFL career to enlist in the United States Army after the Sept. 11 terrorist attacks. Tillman was killed in a friendly fire accident in Afghanistan in 2004. The other man Fitzgerald decided to honor was late Sen. John McCain, a former prisoner of war who was close friends with Fitz.
Tampa Bay linebacker Lavonte David has teamed with one of the oldest and largest youth mentoring programs in the country. David has teamed up with Big Brothers Big Sisters of America to help children reach their potential through the help of countless volunteer mentors.
The Pittsburgh Steelers have a handful of players who will be wearing their custom cleats when they play the Patriots.
Wide receiver Antonio Brown has cleats for his own foundation, "Live Your Vision," which is set on giving back to the community; last year the foundation gave away 800 backpacks filled with supplies to students in Pittsburgh Public Schools. Cornerback Joe Haden is a global ambassador for Special Olympics and decided to honor that organization.
When being presented with the Walter Payton Man of the Year award in 2017, Giants quarterback Eli Manning said it best, noting that NFL players have a global platform which can serve as a unique opportunity to make a difference. The "My Cause My Cleats" initiative is growing and certainly gets people talking about notable causes.
Fans will be able to bid on game-worn cleats, with all the proceeds going straight to the charities and foundations chosen by the players.