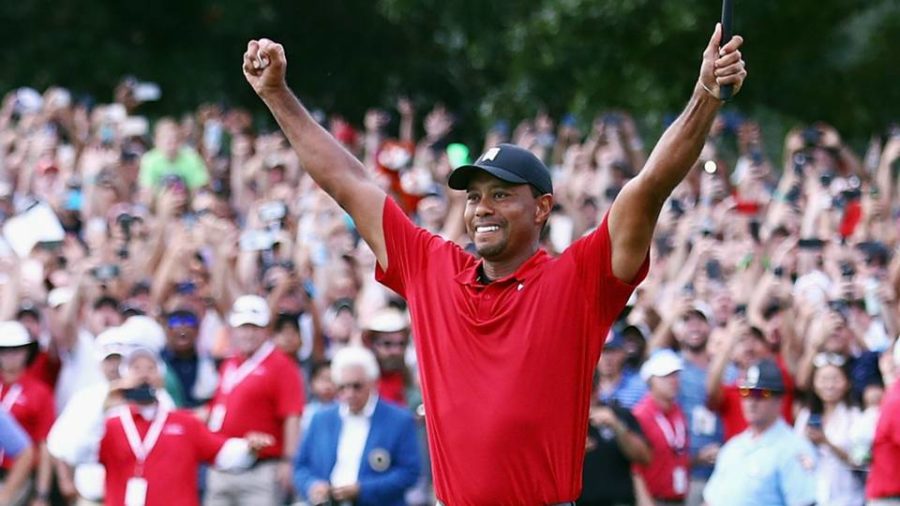 Photo via Getty Images
When professional athletes lose a step, it's often improbable for them to return to the top of the heap and capture some of the same glory they had in the past. However, just to prove all members of the media wrong, Tiger Woods on Sunday won the Tour Championship at age 42, making it his 80th tour win and first in five years.
Golf fans have been waiting for Woods to return to this kind of championship-contending form as he has become one of the most popular and well known athletes of all time. Woods finished 11 under par and had a commanding lead for much of the tournament. Also, Tiger walked away with a cool payout of $3 million.
The question for most people, however remains the same: Is Tiger back?
At just 19, Woods made his name known on the professional landscape as he participated in his first PGA tour and walked away with the PGA Rookie of the Year.
The hype and accolades would only continue to roll in for Tiger, as the very next year he would win his first of four Masters Tournaments. Collectively Woods has won 14 major championships and over 50 noteworthy awards. He led the PGA in total earnings 10 times.
Even through all the hype and success and money, all legends have to fall at some point. Through scandals of infidelity and a messy divorce, plus a serious back injury, Woods was virtually out of the public eye and out of the highest levels of professional golf.
Now the next act is taking place, in which the hero rises from the bottom of the heap and comes back to reclaim his title. Tiger has been playing high-level golf throughout the entire PGA season, seeing a lot of success in the summer, and now as the fall season has just begun Woods returned to win his first tournament in five years.
Not only does the win mark a possible return for the accomplished golfer, it puts him even closer to all-time great status. Woods has amassed 80 PGA wins, which is second all time behind Sam Snead, who has 82 wins, which right now is not a huge hurdle for Tiger, who still has a lifetime of golf ahead of him.
They say golf is a sport people play for life, and as long as Tiger Woods is on a PGA course, he will continue to produce, and opponents and fans alike will remain in awe of the amazing ability and the way he transformed the game of golf.