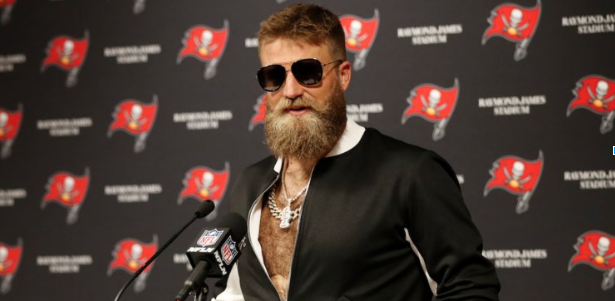 Photo via Wikimedia
In the sometimes strange and unpredictable world of the National Football League, a lot can happen early on in the season. The Steelers tied the Cleveland Browns, Aaron Rodgers gets injured and still dismantles the Bears, and the fans of the Raiders are still without a win behind Coach John Gruden.
Possibly the most surprising thing is how the suspension of Tampa Bay quarterback Jameis Winston has become a huge positive for the team. Long-time veteran and backup quarterback Ryan Fitzpatrick has been putting up amazing numbers, and has led the Buccaneers to a 2-0 record, the team's best start to a season in eight years.
Fitzpatrick through two weeks of regular-season play has racked up 819 passing yards with eight passing touchdowns, one rushing touchdown, and only one interception. The question remains the same, however: How long is this level of play sustainable?
Fitz has been in the NFL for a long time, and he's only enjoyed short sudden bursts of success. If he's not throwing for 400 yards and multiple touchdowns, he's getting replaced at halftime after throwing multiple interceptions and earning a passer rating in the 30s. Fitzpatrick has given some magic to the lowly Buccaneers for sure, but at the end of the day no one knows what is next.
There have been several quarterback teases in recent history. Tim Tebow filled in for a lousy Kyle Orton in 2011 and took the Broncos to a spot in the playoffs. The next season Tebow would be traded to the Jets and never started another NFL game. Robert Griffin III would take the Washington Redskins to the playoffs en route to a memorable rookie season. Now RG3 is the backup's backup on the Baltimore Ravens.
On the other hand, Fitzpatrick could spread some Fitzmagic and go the route of other more successful backup quarterbacks. Most recently Patrick Mahomes is having an excellent sophomore season while putting up video game type numbers. Last year Nick Foles took over for an injured Carson Wentz and won the Eagles their first Super Bowl in franchise history.
Maybe the most successful former backup in league history is Tom Brady, who took over after Drew Bledsoe suffered a serious injury in 2001. Brady has only won five Super Bowls, no big deal.
At least Tampa Bay fans finally have a reason to watch football again, and they would love to see nothing more than for Fitzmagic to reign over the NFL's top tier quarterbacks.
It's certainly a toss-up to predict how Fitzpatrick will play after only two weeks; he could have a legendary season, or crash and burn in typical Fitzpatrick style. Either way he currently has more swagger than any other NFL quarterback, as he'll continue to show up at press conferences wearing something straight out of the Conor McGregor fashion catalog.