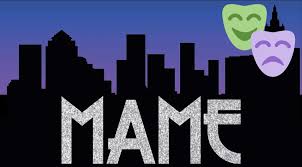 Photo via BHS twiiter
The spring musical will be bringing back a classic this year, as "Mame" was announced Monday as this year's production.
Also, the fall play will be "The Musical Comedy Murders of 1940," a murder mystery.
"Mame" is set in New York City during the Great Depression and is about Mame Dennis, who lives a wealthy life that is interrupted by the son of her late brother coming to live with her.
Jason Coll, the musical director, directed this musical at Seton La Salle years ago.
Coll's choices for musicals at Baldwin have tended to be newer and less well-known, but "Mame" was quite popular when it was first produced on Broadway. Students said they were looking forward to audition for the musical, though they did not all know much about it.
"I've heard some of the music before, but I didn't know where it was from," junior Bradyn Stephenson said.
The musical will contain a lot more dancing and more female roles than male roles.
The fall play, "The Musical Comedy Murders of 1940," is about the cast and production team of a musical who are suspects and casualties of murder.
"We never really know too much about the musicals and plays before they're announced, but they're always fun and interesting," Stephenson said.
Auditions for the fall play will begin Thursday.