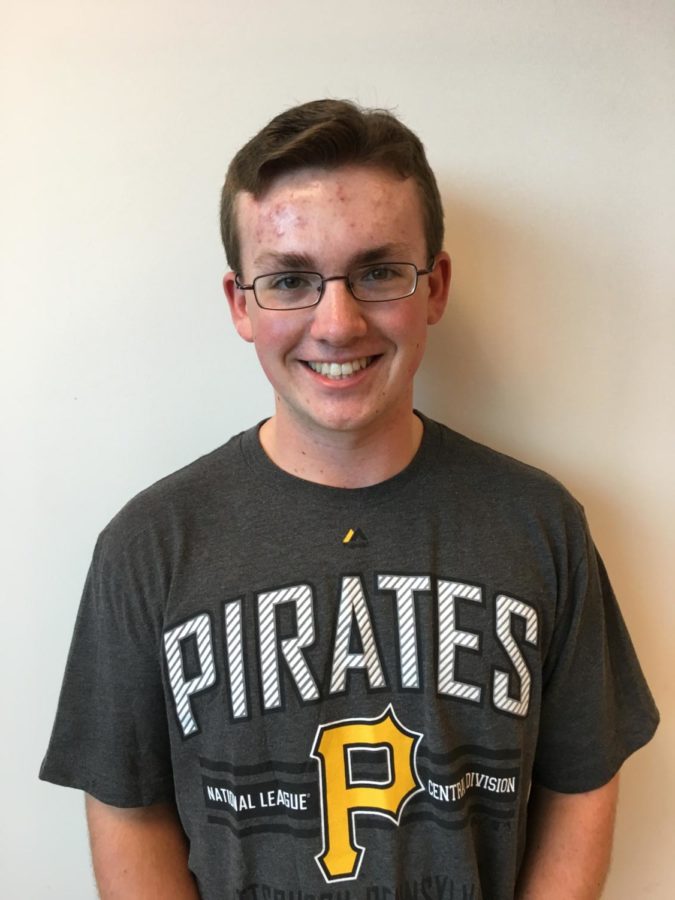 Paige Crawley
Out of the 1.6 million high school juniors who take the PSAT test each year, 16,000 are named semifinalists every year. For senior Thomas Ahlin, the award came as a surprise.
Some of his friends from the Pennsylvania Governor's School for the Sciences at Carnegie Mellon already had mentioned that they were named National Merit semifinalists. While he knew he had a decent score, it wasn't perfect, Ahlin said.
"I went to Mrs. (Caroline) Babik the next day to talk to her about it, and it turns out she had been sent an email that same day. So it was pretty exciting," Ahlin said.
Baldwin has had student named semifinalists in the past, but it isn't common, Babik, a counselor, said. Advancing to the next level and becoming a finalist requires strong SAT scores and a high GPA, which Ahlin has worked hard to maintain.
"I think the part that is most important is his total dedication to his education, whether that means activities, leadership, asking for help, or staying after school. It's about having a goal and choosing to really dedicate yourself to it," Babik said.
Ahlin's achievement is a not only a reflection his own dedication to his work, but also of his parents' support.
"Ever since I was in grade school, my parents made me understand that academics were my number one priority, over any sport or extracurricular activity. Without their love and support, I would not have been anywhere close to the student and person I am today," Ahlin said.
Ahlin had been planning on applying to Notre Dame, the University of Pittsburgh, and Northwestern, among a few other small schools. However, with the chance to be named a finalist, he is able to look into more schools that could offer him full scholarships. He hopes to study chemistry or biochemistry, and wants to get on the pre-med track.
Becoming a semifinalist not only leads to more opportunities for Ahlin, but it validates the effort he's put into his education.
"For years, I have been told that the work I put in towards academics would eventually lead to success down the road, and this is one of the first signs that my hard work is paying off. It was not something I was necessarily expecting, but it is quite a pleasant surprise," he said.
For students preparing for the PSAT, having a passion for learning is the key for success, Ahlin said.
"The work you put forth today will decide what doors will be open during your senior year as you begin applying to universities and other scholarships," Ahlin said.