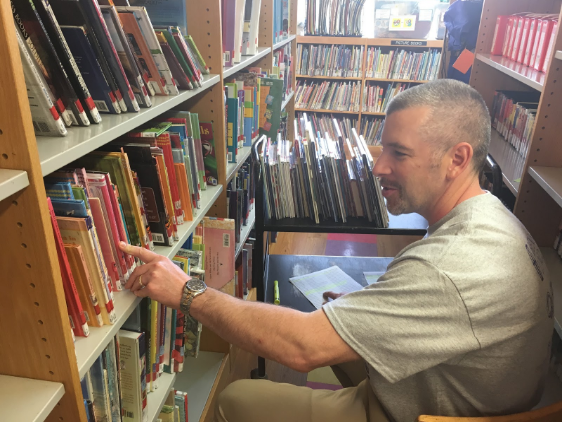 Baldwin's cheerleaders have taken part in dozens of performances, but performing for the community's senior citizens during the district's first Day of Caring was something special.
"It was great to put a smile on their faces and share the love around the community," sophomore Alaina Wodarek said.
Scenarios like that occurred throughout the region on May 4, as staff and students came together to lend a hand. The Day of Caring event took place as an alternative to the staff's usual half-day in-service during the Baldwin Track and Field Invitational.
Staff and some students spent the day helping the local community with various tasks, from doing lawn work for senior citizens in the district to helping at food pantries and libraries.
"It was a good bonding experience and a good way to help the local community while being with your friends," said sophomore Paige Young, who was part of a different group of cheerleaders that did yard work at four homes within the community.
"We were asked by our coaches to help out and none of us really hesitated because we knew it was the right thing to do," Young said.
Elsewhere, teachers from the language department went to Paramount Senior Living to participate in activities there and throw a Cinco de Mayo party for the residents.
Spanish teacher Rebecca Michalski said she enjoyed the event, noting that it was a simple thing to do to make the senior citizens feel special.
Sarah Altavilla, assistant activities director at Paramount, said the seniors appreciated the event.
"These residents still like to learn things, and they especially love to learn about what is going on in the world today," Altavilla said.
Math teacher Brian Black, along with some other teachers, helped out with Meals on Wheels.
"It was an interesting day. I thought we were going to be doing some spring cleaning, but we ended up working hard and scrubbing the floors," Black said.
Some staff members, such as culinary arts teacher Beth Fochtman and counselor Slma Misquitta, helped at out the Whitehall Public Library by cleaning and organizing the library to get ready for summer camps and crafts.
"A lot of teachers and students helped out around the community, so there were so many different and important things that we were doing to really benefit and give back to the community," Fochtman said.